2 May 2019
Health & Wellbeing
Minister Launches 2019 Green Ribbon Walk and Talk Campaign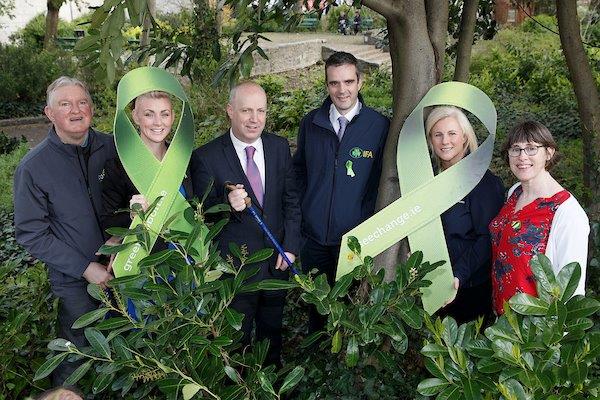 Pictured Left to Right: Charlie Burke (Coillte), Hazel Brennan (See Change) Jim Daly (Minister For Mental Health), Joe Healy (IFA) Jill O' Herlihy (Mental Health Ireland) and Caroline Farrell (IFA)
Minister for Mental Health Jim Daly launched the 2019 Green Ribbon Campaign.  This year a series of forest walks are happening right across the country encouraging people to get out and walk and talk.
The Let's Talk & Walk series of walks are taking place throughout Ireland at Coillte Forest Parks and trails during May 2019 to promote the Green Ribbon and raise awareness to improve mental health.
Just like the pink ribbon became a symbol for breast cancer awareness the Green Ribbon has been established as the international symbol for mental health awareness and has been introduced to Ireland by See Change.
The Let's Talk & Walk – Green Ribbon walks are hosted by Coillte in collaboration with IFA, Mental Health Ireland and See Change.
The walks provide an opportunity for friends, families and communities to connect with one another whilst being mindful of their own and others' mental health and wellbeing enjoying two things inherent to us in Ireland….Nature and Talking!"
Coillte are keen to drive the health agenda encouraging people to enjoy their walks and forest parks throughout the country which can deliver a range of physical and mental health benefits to the people who use them.
We wish to invite you to join and look forward to meeting you at any of the locations below; Car parking is free of charge.
2019 - Green Ribbon - Let's Talk & Walk Events
Date
Time
Location
Sunday, May 5th
3.00pm
Avondale Forest Park, Rathdrum, Co. Wicklow
Sunday, May 5th
12.00 noon
Kilrush Forest, Beside Vandeleur Gardens Co. Clare
Sunday, May 12th
3.00pm
Ards Forest Park, Co. Donegal
Sunday, May 12th
3.00pm
Rossmore Forest Park, Monaghan, Co. Monaghan
Sunday, May 19th      
3.00pm
Emo Forest, Emo Village, Co. Laois
Thursday, May 16th
7.00pm
Roscahill Forest, Killalin Village, Co. Galway
About Coillte
Coillte is a commercial forestry company, owned by the State, that manages approximately 7% of the country's land. Coillte operate three strong businesses from this land – their core forestry business, a wood panels manufacturing business MEDITE SMARTPLY and a land solutions business. Coillte export to over 30 countries worldwide and in the financial year 31 December 2018 generated EBITDA of €115 million. Coillte's vision is to be the best forestry and land solutions company in Europe. To find out more visit www.coillte.ie