DUBLIN MOUNTAINS MAKEOVER
Stay up to date! Subscribe to our newsletter
Coillte owns and manages around half of the forests in the Dublin Mountains, with the remainder managed by private forest owners. When this land was first planted with trees between the early 1940s and late 1960s, Dublin was a much smaller city and there was less demand for outdoor recreation in forests. Today, these forests are among the most important recreational sites for a growing urban population seeking fresh air and green space: Coillte's most popular forest, Ticknock, has had on average over 1,000 visits per day in 2021!
Until now, we have managed these areas primarily for timber production. But because of their popularity and proximity to the city, it's now time to put the needs of people and nature much higher on the agenda.
Through the Dublin Mountains Makeover, an area of over 900 hectares across nine Coillte forests will transition away from the clearfell and replanting cycle towards a different model. Multi-generational forests managed under 'Continuous Cover Forestry' (CCF) principles will maintain their green canopy on a permanent basis. In other areas, Sitka spruce and lodgepole pine trees will be removed and replanted (R&R) with native species such as Scots pine, birch, rowan, oak, holly and willow to provide habitat for nature and bring autumn colours to the hills.
Work started on the Dublin Mountains Makeover in June 2020 and will continue for many years, possibly decades. It will be a slow and careful process, conducted in a way that minimises disruption to local residents and visitors, while locking in benefits for nature, recreation and the landscape that will be enjoyed by generations to come.
See our Coillte Nature News section for project updates
| | |
| --- | --- |
| Project Details | |
| What? | Conifer plantations and mixed broadleaf forests |
| Where? | Nine forests across the Dublin Mountains |
| Why? | To improve biodiversity, enhance aesthetic qualities and increase forest resilience |
| How? | Improve species diversity, improve structural diversity and create new habitat through Continuous Cover Forestry and R&R (Removing commercial conifers and Replanting with native woodlands) |
| When? | 2020 – long term |
| Partners | Dublin Mountains Partnership |
WHAT WE'RE DOING
Across the Dublin Mountains forests, you'll find a variety of habitats, tree species and age classes, depending on the stand. 'Stands' are individual portions of forests, each of which will require its own forest management approach. We've broken them down into three main types:
1. Mature Mixed Conifer Stands
These types of stands are in Coillte's 'Biodiversity Areas', for example parts of Cruagh and Barnaslingan Wood, and feature a mix of conifers (including natives like Scots pine and non-natives such as larch, spruce and firs) and some broadleaves (including natives like oak and birch and non natives such as beech).
Coillte Nature will manage them on a 'light touch' basis by controlling invasive species like laurel and removing a small number of trees in specific locations to enhance biodiversity. We'll also take a Continuous Cover Forestry (CCF) approach, which involves selecting individual trees to cut down in order to create space in the canopy so that light can hit the forest floor. This enables young trees to grow naturally from seed and increases the structural diversity of the stand while maintaining a permanent canopy cover. In some places we will also plant young native trees to increase the number of different species. With more young trees, the forests will be healthier and more climate resilient.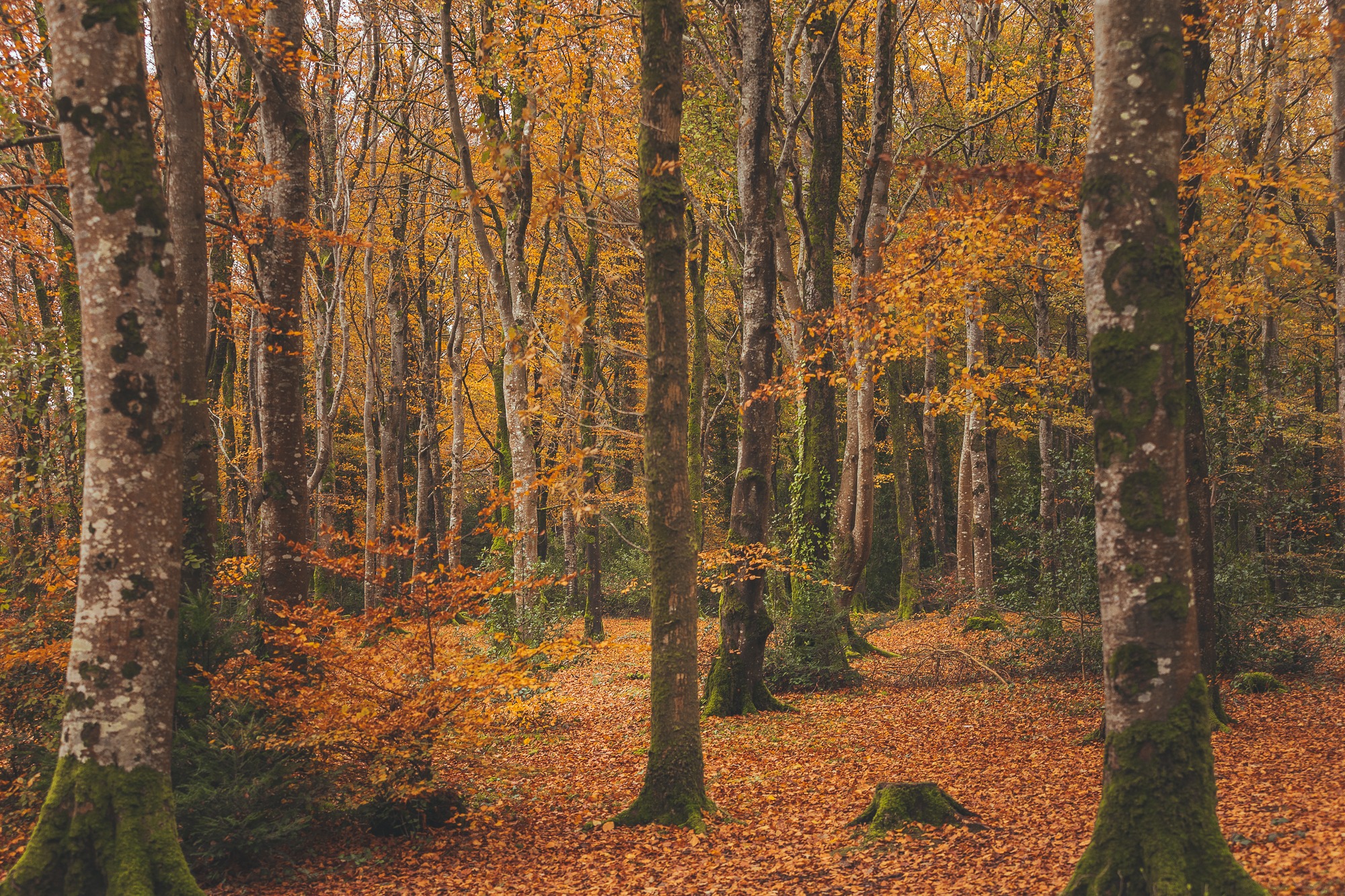 2. Mature Sitka Spruce Stands
These types of stands are Sitka spruce forests with large, tall trees that are all the same height, like in Ballyedmonduff. There tends to be very little ground vegetation growing under the trees so it's easy to walk through them.
We will manage some of these areas under CCF (see above for description) to maintain a permanent canopy cover, but the young trees that naturally regenerate here from seed will be primarily Sitka spruce – this is because there are few other seed sources available. In some of the larger gaps we will add to the spruce regeneration by planting native broadleaf trees like birch and rowan to gradually increase species diversity over time.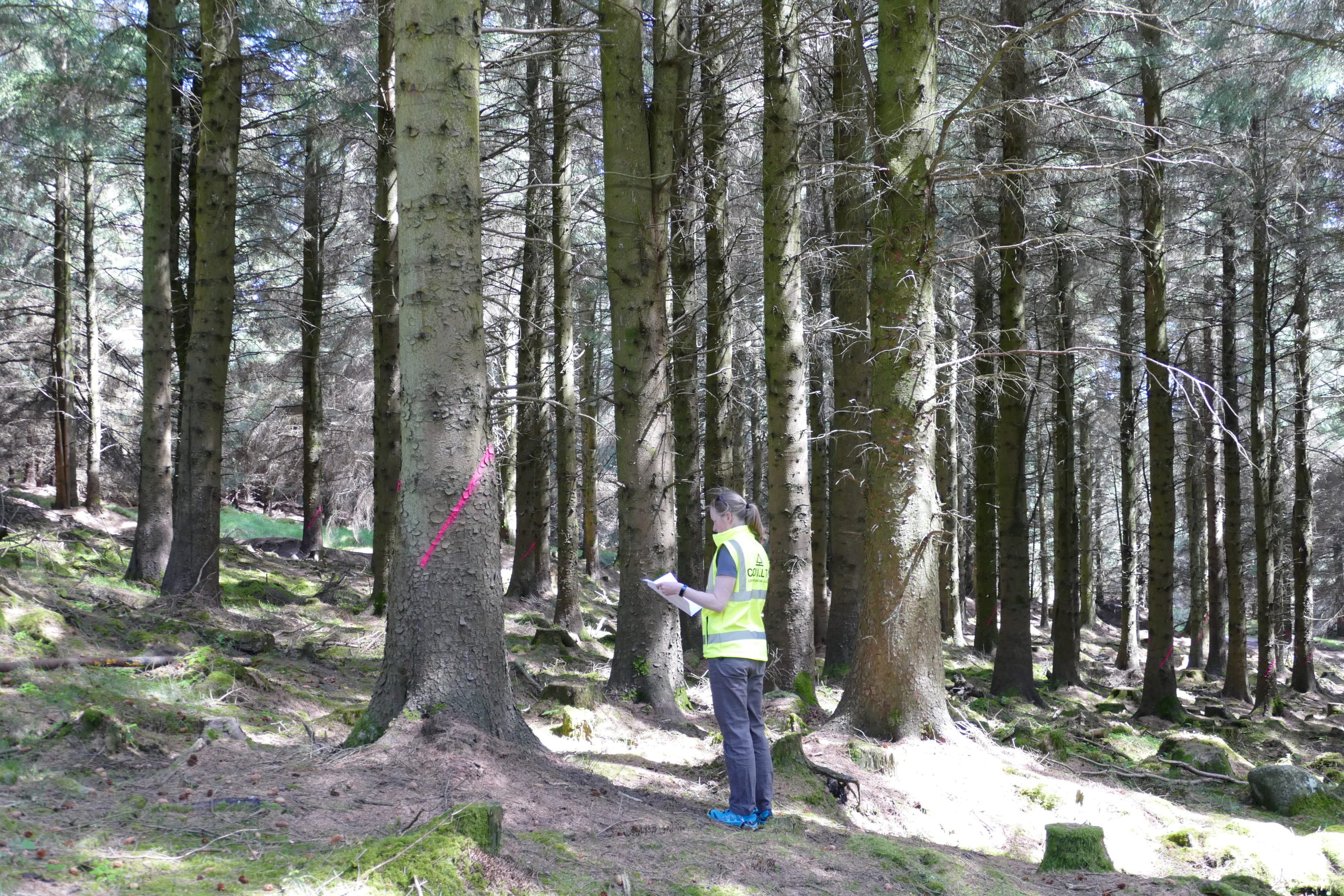 Some of these stands are less suitable for CCF: they have too many trees close together, and the trees are too tall, so if we cut a gap in the forest, the wind is likely to blow them over. 'Windblow' – as this is known – is very dangerous for foresters to deal with because the trees fall haphazardly on top of each other. Also, the species mix within the Dublin mountains forests is dominated by conifers, particularly Sitka spruce - we want to diversify the forest and introduce more native broadleaves.
In these stands, we're taking a different approach we're calling 'R&R': Removing the existing trees in the normal clearfell way and Replanting them with native woodland species like Scots pine, oak, birch, rowan and holly. This will improve the landscape value by bringing autumn colour and increase the biodiversity of these stands dramatically. More species equals more wildlife!
3. Younger Conifer Stands
Young conifer stands are mostly Sitka spruce, though some are mixed with larch. They tend to be packed quite close together and are not easy to walk through. You can see some examples of this at Kilmashogue and Ticknock.
Once they're ready for thinning at around age 18, Coillte Nature will manage these young conifer stands under CCF by removing selected trees in a way that creates stability and diversity in the stand. This will help to maintain a permanent forest cover into the future, while creating space within the forest for future regeneration. Doing this at an early stage in the forest's development will give us options for how we manage these areas in the future: we can choose to maintain them as Sitka spruce stands under CCF principles, or convert them to R&R forests that will see the Sitka spruce removed and the site replanted with native woodland species.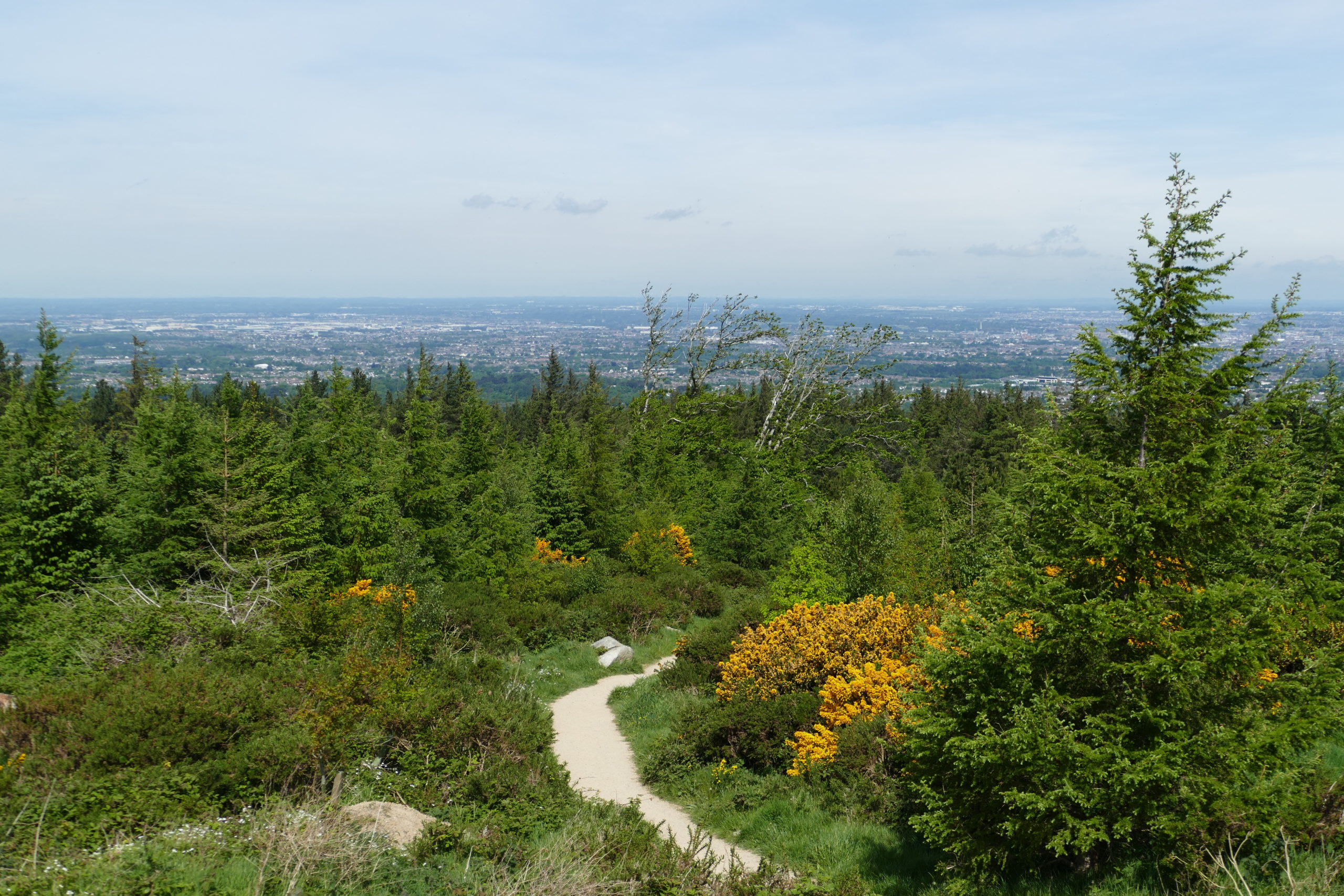 CONSERVATION DETAILS
Overall, around 40% of the Coillte lands in the Dublin Mountains are already managed for biodiversity. Half of these 'Biodiversity Areas' are heathland, like the tree-less shrubby area around Fairycastle and Tibradden mountain, which are important breeding habitats for birds like the endangered Red Grouse.
The other half includes various types of forests that have value for nature, but these represent a small proportion of the forest total. The overwhelming majority of forests in the Dublin Mountains (92%) are comprised of non-native trees species like Sitka spruce (57%), larch (10%), lodgepole pine (7%), firs (6%), other conifers (6%) and non-native broadleaves like beech and sycamore (6%).
Using a mixture of management approaches (including Continuous Cover Forestry, CCF) will help to improve these forests' resilience for the future by increasing the variety of species, creating a mosaic of forest types and improving the structural and age diversity.