Planting for our Planet – Play your part and help combat climate change during National Tree Week 2019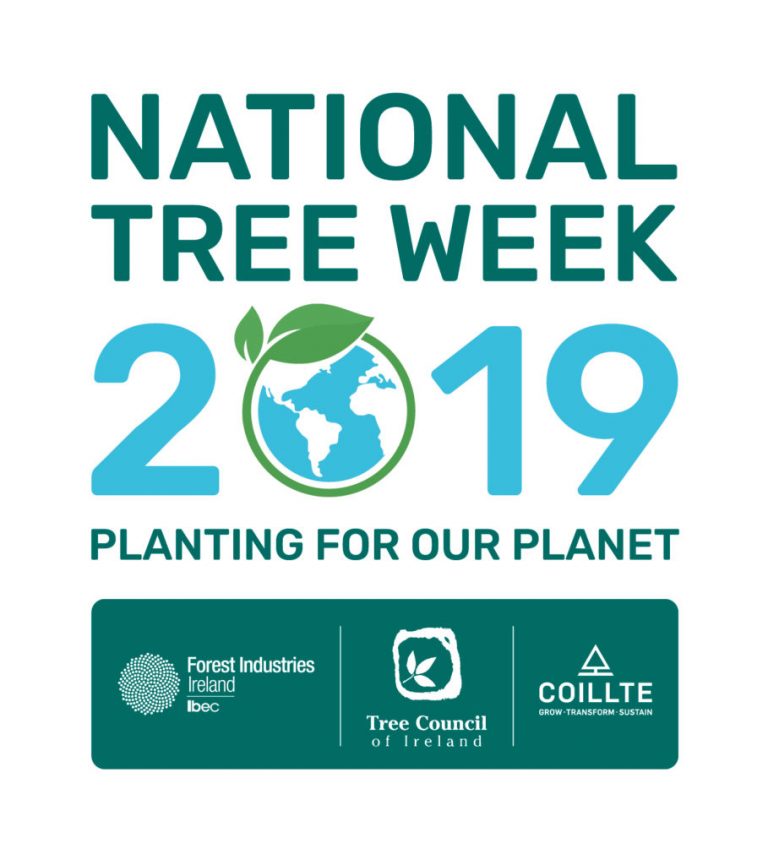 The Tree Council of Ireland and Forest Industries Ireland want everyone to get involved and 'Plant for our Planet' during National Tree Week 2019 
Forest Industries Ireland (FII) is delighted to sponsor National Tree Week for the first time this year
This year's theme is "Planting for our Planet". By doing something as simple as planting a tree everyone can play a role in combating climate change 
5 March 2019: Forest Industries Ireland (FII) is placing timber and forestry at the heart of Ireland's rural economy and is delighted to be a part of National Tree Week 2019. This week-long celebration of trees is about communities coming together to celebrate trees and all the uses they provide. These range from building our homes to cleaning the air we breathe to even giving us all a place to connect with family and friends in many of the recreational sites available throughout Ireland.
Since the beginning of National Tree Week, over half a million trees have been planted. Coillte work in partnership with the Tree Council of Ireland to facilitate the supply and distribution of over 15,000 trees for National Tree Week, which are delivered to community groups all across Ireland.
Director of Forest Industries Ireland, Mark McAuley said:
"Forest Industries Ireland is delighted to be sponsoring National Tree Week this year, we are an organisation that brings together companies from across the forestry and timber supply chain. The forestry industry is rooted in local communities across Ireland and National Tree Week is about local people across Ireland showing their love for trees. This year's theme 'Planting for our Planet' is a particularly important one, as trees help reduce climate change effects by reducing the amount of greenhouse gases in the atmosphere. We are encouraging people to learn more about the wonderful benefit of these natural resources and to get involved in events that are taking place in their local areas during National Tree Week 2019."
National Tree Week 2019 will officially kick off on Sunday 31 March and will run until Saturday 6 April 2019, with various events taking place across the country. The Tree Council of Ireland and Forest Industries Ireland want everyone to learn about the incredible ways trees support us and our natural world, and how trees can help tackle climate change.
The Tree Council of Ireland and FII are inviting people to get involved in local activities. You can organise one or more events for the week to celebrate trees, such as local tree planting ceremonies, nature trails, guided walks, musical events and wood turning displays among many other activities.
Don't forget to register your event with the Tree Council via their website www.treecouncil.ie so that other people can come and join you and support your event. A suite of promotional materials is also available on the Tree Council website to help you promote your event in your local community.
President of the National Tree Council, Joseph McConville said:
"National Tree Week is an opportunity for local groups to get together and make a lasting difference in their communities. With the support of Forest Industries Ireland and Coillte we want this year's National Tree Week to be the biggest one yet and are encouraging people of all ages to get out and enjoy their local events. This year we'd love to see even more organisations or individuals rolling up their sleeves and 'planting for our planet' to help maintain our environment for future generations to come."
Irish forestry plays an important role in our economy as a natural renewable resource as well as providing important environmental and recreational benefits. Ireland's forests deliver a whole range of economic, environmental services and provide a hugely valuable and sustainable natural resource. We are encouraging everyone to learn more about trees and to get involved so let's make this week Treemendous!
We are encouraging people who take part in events in their area to tag the event and their attendance on social media using #treeweek2019 we would love to see everyone celebrating National Tree Week 2019.
To find out about events happening in your area and to get involved, please visit www.treecouncil.ie.
For all media queries or to arrange an interview with a relevant spokesperson, please contact; Marie Lynch at Carr Communications marie@carrcommunications.ie / 087 973 0522/01 772 8900.
About The Tree Council of Ireland
The Tree Council is an umbrella body for organisations involved in tree planting, management and conservation. The main role of the Tree Council is to promote the planting, care and enjoyment of trees. The Tree Council aims to educate the public through the organisation of events and tree related activities, the publication of literature, the management of national tree records and through the provision of an information service to the public.
About Forest Industries Ireland
FII brings together companies from across the forestry and timber supply chain, from forest owners and forestry companies, to timber processors, wood product manufacturers, and renewable energy producers. With a combined turnover of over €800 million, the industry is a major player in the rural and national economies. Member companies take pride in the high-quality employment they provide and the sustainable products they deliver.
About Coillte
Coillte, Ireland's largest commercial forestry company, manages approximately 7% of the country's land. Coillte operate three strong businesses from this land - its core forestry business, a wood panels manufacturing business MEDITE SMARTPLY and a land solutions business. Coillte export to over 30 countries worldwide and in the financial year 31 December 2016 generated EBITDA of €98.3 million from its €1.5 billion asset. Coillte's vision is to be the best forestry and land solutions company in Europe.
The Irish forestry sector supports 12,000 rural based jobs in Ireland, contributes approximately €2.3 billion to the economy every year and has the potential to double in size over the next ten years.
Visit www.coillte.ie to learn more