Coillte Harvesting Machine Graduate First to Receive Quality Certificates from Minister
Minster of State Andrew Doyle TD presented Brendan Lynch of Coillte and Martin McManus with their QQI (Quality & Qualifications Ireland) certificates at Avondale House, Rathdrum, Co Wicklow.
This followed their successfully completing a Level 5 award in forestry forwarder operations, making them the first students to successfully complete this newly commenced course run out of Ballyhaise College.  The two graduates, Brendan Lynch and Martin McManus were congratulated by Minister Doyle on their achievement.
With Ballyhaise College now running the new Harvest Machine Operators Course including a state of the art Harvest Machine Simulator, Ireland now has world class accredited training available to those wishing to pursue a career in timber harvesting.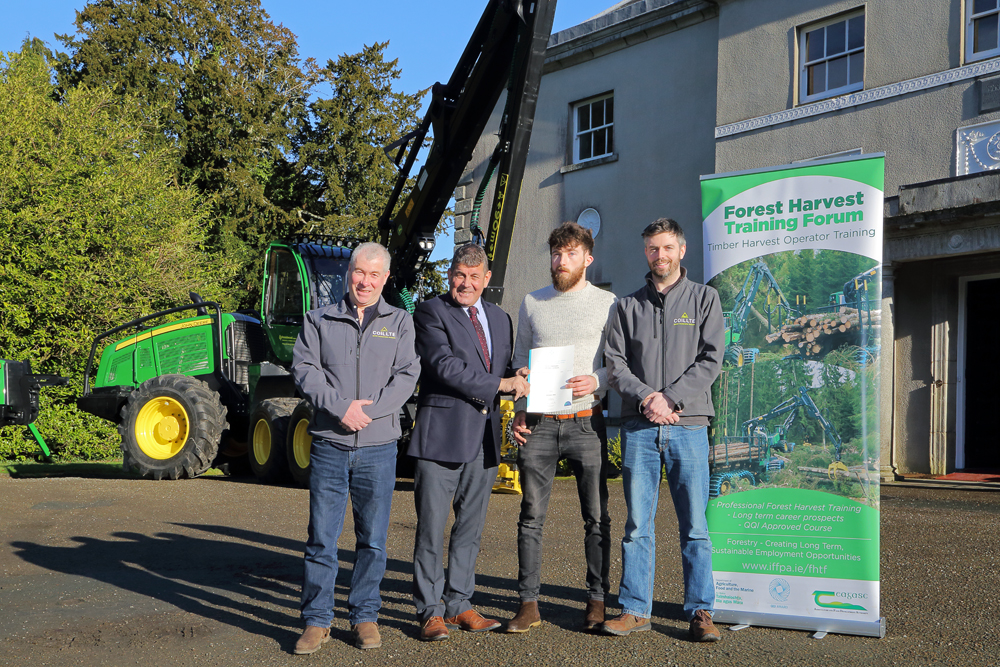 Pictured above are, Cormac MacGiollacoda, Minister Andrew Doyle T.D., Brendan Lynch and Stephen Fletcher.
About Coillte
Coillte is a commercial forestry company, owned by the State, that manages approximately 7% of the country's land. Coillte operate three strong businesses from this land – their core forestry business, a wood panels manufacturing business MEDITE SMARTPLY and a land solutions business. Coillte export to over 30 countries worldwide and in the financial year 31 December 2016  generated EBITDA of €98.3 million. Coillte's vision is to be the best forestry and land solutions company in Europe. To find out more visit www.coillte.ie