Coillte and the Environmental Education Unit of An Taisce Announce the Delivery of Six Outdoor Based Forest Classrooms
You Better Be-Leaf It
Coillte and the Environmental Education Unit of An Taisce Announce the Delivery of Six Outdoor Based Forest Classrooms
Tuesday, 1st February 2022 Coillte and the Environmental Education Unit (EEU) of An Taisce are delighted to announce the delivery of six new An Choill Bheags (little woodlands) in primary and secondary schools across Ireland, one of which will be based in Kerry located in Presentation Secondary, Cloonbeg, Tralee, Kerry. Furthermore, there are a further five outdoor classrooms located in counties: Donegal, Offaly, Wicklow and Dublin, with two Wicklow schools selected.
An Choill Bheag (AnCB) is a long-term educational programme, an initiative of LEAF Ireland and the EEU of An Taisce. The aim of the initiative is to create small, dense native woodland habitats for biodiversity and an educational and recreational resource for the whole school community to enjoy.
Coillte is providing the native trees (including such species as oak, alder, wild cherry, rowan, scots pine, willow and whitethorn among others) for the students to plant and is funding the programme. The staff of the EEU of An Taisce will create the little woodlands in collaboration with students and staff in the six schools. Students are encouraged to connect with woodland culture and biodiversity to understand their benefits to society, climate change, biodiversity and their local economy.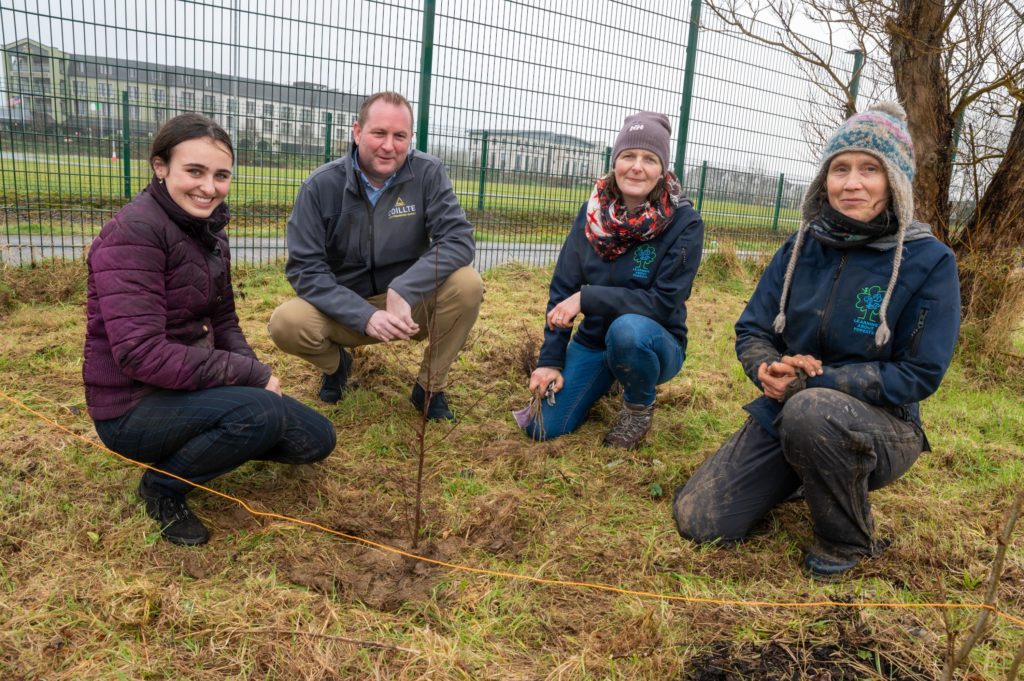 "We are truly delighted to be working with LEAF Ireland and An Taisce to deliver this fantastic outdoor educational resource for schools and their students," said Bernard Burke, Regional Manager, Coillte Forest."The 'An Choill Bheag' initiative enables students to learn about the wonderful benefits that trees and forests offer in a fabulous outdoor setting – be it tackling climate change, and providing biodiversity, recreational amenities, and wood to build our homes," he continued.
Rachel Geary from LEAF Ireland (EEU) said: "Climate change and biodiversity loss are the biggest issues facing us. This collaborative initiative will provide an opportunity to tackle climate change and biodiversity loss at a community level by planting native trees with our schools across the country. Not only will we be planting trees, but we will also educate and raise awareness about the importance of trees and the multifunctional benefits of forests."
An Choill Bheag (little woodland) is an outdoor living classroom, which will bring small, dense, biodiverse native woodland habitats to school grounds. Furthermore, as these woodlands develop, it's envisaged that nature trails can be fostered and managed.
The key objectives of An Choill Bheag are to:
• Involve students in site selection and tree planting
• Encourage proactive, practical and sustainable tree planting
• Provide students with the necessary skills to maintain, monitor and study essential ecosystems for long term use
For further information please contact Pearse Corcoran on pearse@carrcommunications.ie or 087 448 1350
Notes for editors:
The Environmental Education Unit (EEU) of An Taisce was established in 1993. Its mission is to create a greater awareness of environmental issues through practical, action-based, national and international educational programmes directed across the spectrum of Irish society. It works with a wide range of sectors including schools, universities, community groups, householders, Local Authorities, youth groups, businesses and the general public. The rationale of this is to effect positive behavioural change for the environment. This work is supported by funding from various government departments, government agencies, corporate funders and philanthropy.
The EEU of An Taisce is the Foundation for Environmental Education (FEE) member for Ireland and is the National Operator for the international programmes, Blue Flag, Eco-Schools (known nationally as Green-Schools), Learning about Forests (LEAF) and Young Reporters for the Environment (YRE). It also operates a number of national programmes such as Clean Coasts, National Spring Clean and Green Flags for Parks.
Learning about Forests (LEAF) is an international programme of the FEE which is operated nationally by the EEU of An Taisce. LEAF is well-recognised internationally with over twenty countries worldwide participating. The programme aligns itself with Education for Sustainable Development (ESD), the Global Action Programme (GAP) and the new Sustainable Development Goals (SDGs).
An Choill Bheag is a long-term educational programme, an initiative of LEAF Ireland and the EEU of An Taisce.
About Coillte
Coillte is a commercial forestry company, owned by the State, that manages approximately 7% of the country's land. Coillte operate three strong businesses from this land – their core forestry business, a wood panels manufacturing business MEDITE SMARTPLY and a land solutions business. Coillte export to over 30 countries worldwide.
To find out more visit www.coillte.ie