Slieve Bloom MTB trails – Laois
Overview
Welcome to the Slieve Bloom Mountain Bike Trail in Laois. This is a network of purpose-built singletrack trails and forest roads that are designed for use by mountain bikes on a waymarked circular route.
The trails take riders through beautiful forest and open land with fantastic views over the Baunreagh Valley. Forest road climbs lead you into tight twisty singletrack with loads of fast descents, ups and downs, tight turns and technical rocky bits, guaranteed to leave you smiling! The trails are waymarked in one direction, please follow the arrows.
The route uses multiple sections of forest roads and crosses many walking trails. You should expect to encounter vehicles and other forest users at any time. In general, the trail is exposed on the upper slopes and can be very windy in poor weather. Please make sure your mountain bike is in good working order and that you have an appropriate level of fitness and skill level to undertake these trails. All riders should be appropriately dressed and wear a helmet at all times. Please ride with consideration for other forest users and control your speed.
There are more MTB trails open on the Offaly side of Slieve Blooms, starting in Kinnitty. Click here for details Offaly trails
The trails are developed in partnership with Offaly and Laois County Councils and are funded by the Dept of Rural and Community Development, with additional funding support from Fáilte Ireland.
MTB Trail images
These will give you a good idea of what it's all about - lots of flow and more challenge on the Baunreagh trails - red grade so fast descents and big climbs!
Visitor Facilities on site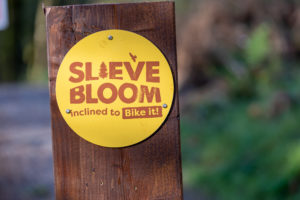 No toilets on site. Car-parking only.
Trail map
Trail Description
This red grade route is difficult throughout with numerous severe sections along the route. The trails vary from fast and flowing to tight and technical. Frequently steep and narrow, with variable surfaces including rock, roots, mud, loose stones and gravel that may become slippery when wet. This trail is not for novice mountain bike riders.
Take caution as you exit the car park and follow the signs into the first single track 'Monkey Puzzle'. The gentle climb continues through 'Take 2' and on to the start of the first descent. 'Free Wheel' and 'Hippity Hop' connect to drop you right back down to the Delour river. The final climb in the route is prolonged but the reward is worth the effort, 'Doom', 'Joy Rider', 'On the Edge' and 'Boiler' trails all await!
Trail Information
Trail Name: Slieve Bloom Mountain Bike Trail (Laois)
Start/Finish Point: Baunreagh Car Park
Full Route: 9km with 215 meters climbing
Time: 60 to 90 minutes
Degree of Difficulty: Difficult to severe
Trail Waymarking: Red
Nearby pit stops
Food, refreshments & cafés in Mountrath