Slieve Bloom MTB trails – Laois
Overview
Welcome to the Slieve Bloom Mountain Bike Trails. This is a network of purpose-built singletrack trails and forest roads that are designed for use by mountain bikes on waymarked circular routes. The routes are graded blue (moderate) and red (difficult/severe). This is the first phase of an extensive trail system being built in the Slieve Blooms. When complete, there will be more than 80kms of trails ranging from blue to black grade trails, complete with full trailhead facilities at Baunreagh and visitor services in Kinnitty village. The trails will cover a vast swathe of Coillte's forests from Offaly to Laois and back.
This first phase on the Laois side, takes riders through beautiful forest and deep valleys with fantastic views across Baunreagh. Forest road climbs lead you into tight twisty singletrack with loads of fast descents, ups and downs, tight turns and technical rocky bits, guaranteed to leave you smiling! This phase is graded red, so not for novices (head to the Offaly side for easier trails). The trails are waymarked in one direction, please follow the arrows.
There are more MTB trails open on the Offaly side of Slieve Blooms, starting in Kinnitty. Click here for details Offaly trails
The trails are developed in partnership with Offaly and Laois County Councils and are funded by the Dept of Rural and Community Development.
MTB Trail images
These will give you a good idea of what it's all about - lots of flow and more challenge on the Baunreagh trails - red grade so fast descents and big climbs!
Visitor Facilities on site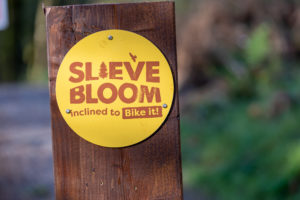 No toilets on site. Car-parking only.
Trail map
This is a challenging trail throughout as the trails vary from fast and flowing to tight, technical and rocky, with numerous difficult sections along the route. The trail constantly twists and turns and rises up and down. This trail tests all a riders skills and abilities and is not for novice riders (red grade trail).
Over half of the loop is singletrack and these sections are narrow, sometimes steep and up to 800mm in width, with variable surfaces including rock, roots, mud, loose stones and gravel that may become slippery when wet. The singletrack also crosses walking trails and forest roads at a number of points so watch out for walkers here. The remainder of the loop is on forest roads and you should expect to encounter vehicles and other forest users at any time on these parts of the loop.
The trail is quite exposed on the upper slopes and can be very windy in poor weather. Please make sure your mountain bike is in good working order and that you have an appropriate level of fitness and skill level to undertake these trails. All riders should be appropriately dressed and wear a helmet at all times. Please ride with consideration for the many other forest users and control your speed.
Trail Information:
Trail Name: Slieve Bloom Mountain Bike Trail (Laois)
Start/Finish Point: Baunreagh Car Park
Length: 6km
Time: 60 to 90 minutes
Degree of Difficulty: Difficult/Severe
Meters Climb: 170
Trail Waymarking: Red
Nearby pit stops
Food, refreshments & cafés in Mountrath