16 March 2022
latest news
Foresters of the Future: Coillte Partners with Kilkenny based Duiske College to Give Students an Insight into Woodland Work
16 March 2022
Coillte, Ireland's semi-state forestry company and Duiske College in Graiguenamanagh, Co. Kilkenny have recently joined together to take part in the Business Action on Education initiative, a nationwide scheme co-ordinated by Business in the Community (BITC), which aims to develop partnerships between schools and businesses in Ireland in support of educational progression and inclusion.
Through the BITC World of Work programme, Coillte is collaborating with a class of twenty-six second year students from Duiske College. Over a series of visits, the students have been introduced to the working world of Coillte and the diverse roles within the forestry sector. A recent highlight of the programme was a field trip, where students were brought to two Coillte forests at Brandon Hill and Tintern Abbey to meet and talk with Coillte colleagues about their work.
Located behind Duiske College, Brandon Hill is a Coillte forest that currently has timber harvesting operations in place. During their visit, the pupils got to see the harvesting process first-hand and learn about forest management, including harvesting and replanting. This was followed by a visit to Tintern Abbey recreation forest in the Hook peninsula of County Wexford. Here, Coillte colleagues gave the students an insight into the work involved in keeping the forest paths and historical features in good condition for the many visitors it receives daily.
Throughout their time at both sites, the students learned about the multiple benefits of forests for climate, nature, wood, people and their local community.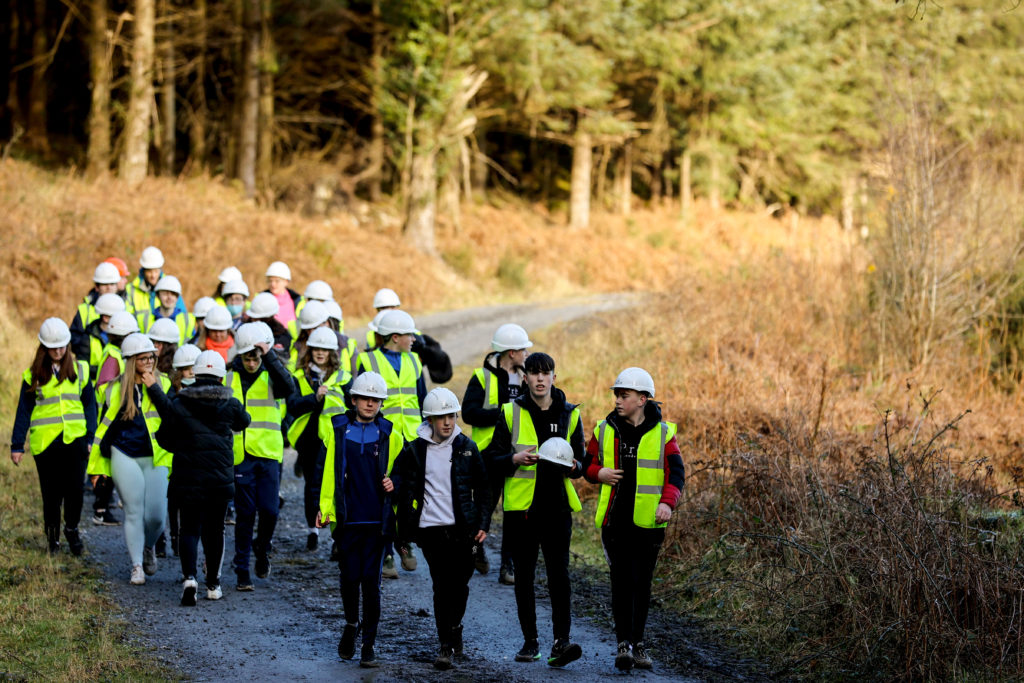 Karen Byrne, Teacher at Duiske College, said, "Our involvement in this project brought an element of fun back into the classroom which had become so impacted by COVID-19 regulations, and it allowed students a platform to gain some life experience and utilise some transferable skills on a practical level. It opened their eyes to the variety of employment available in sustainable sectors and highlighted the importance of waste management in successful businesses. The students have found the experience valuable."
Commenting on his experience of the trip and the benefits of the project, second year student at Duiske College, Daniel Joyce said, "this project provides learning opportunities for sustainable jobs and the opportunity to be a forerunner for sustainability in the future."
Leonard Kelly, BITC Regional Coordinator said, "As regional coordinator I am delighted to see this dynamic partnership come to life. This is the first year of a partnership which I would hope to see grow and thrive in the years ahead."
Paulina Pawlukojc, Group Sustainability Manager, Coillte said, "We're delighted to support this important initiative and to give students the opportunity to learn more about forestry and its valuable contribution to the planet. We look forward to meeting the next class of second year students in September 2022 as this partnership with Duiske College continues into the years ahead."
ENDS
About Coillte
Coillte, Ireland's semi-state forestry company, is responsible for managing 440,000 hectares of primarily forested lands. Coillte is the nation's largest forester and provider of outdoor recreation space. It also enables wind-energy on the estate, processes forestry by-products and undertakes nature rehabilitation projects of scale. Coillte delivers the multiple benefits of forestry, including forests for climate, for nature, for wood and for people. To find out more visit www.coillte.ie
About Business in the Community Ireland (BITC)
Business in the Community Ireland is a movement for sustainable change in business. In a dynamic and changing environment, sustainable businesses are successful businesses.
Our purpose is to inspire and enable businesses to bring about a sustainable, low-carbon economy and a more inclusive society where everyone thrives. We act as trusted advisers in sustainability and corporate social responsibility. We provide access to best practice and support businesses with practical management and monitoring systems. By facilitating forums for reflection and action, we ensure that businesses anticipate and are ready to meet the current, pressing challenges of climate change, the pipeline of talent as well as the issues of social inclusion, diversity and accountability.
Led by CEO Tomás Sercovich, Business in the Community Ireland has one of the strongest board of directors in the country and our Patron is President Michael.D.Higgins.