Events
and Updates
08.12.2017
Weather Alert – Be Careful Out There
We are experiencing severe weather conditions with ice on many of our walking and mountain bike trails.
The weather in the highlands may be more severe than you think!
Always check the weather forecast before you go out on the trails and be prepared that it might be even worse than forecast.
For updates on weather in your area click here
14.11.2017
Derroura - Temporary Closure
Please note that Derroura MTB trail and forest will be closed for essential maintenance on Thursday 16th November.
13.11.2017
Crone Car Park - temporary closure
Please note that Crone car park in Wicklow will be closed for essential maintenance works from Monday 20th to Thursday 23rd November (inclusive).
13.11.2017
East Clare Way - harvesting operations
Harvesting will be taking place close to the East Clare Way in Lackabranner, please proceed with caution and respect all warning signage and possible detours.
23.10.2017
Avondale Forest Park Diversion
The driveway at Avondale Forest Park, Rathdrum, Co. Wicklow is being resurfaced this week
The park will remain open to the public.
Pedestrian and vehicle access can be made by following the diversion signage.
We apologise for the inconvenience caused
18.10.2017
Storm Ophelia – Coillte Urges All Forest Users to Exercise Extreme Caution
We urge all users of our forest lands to exercise extreme caution if entering forest lands following the damage caused by ex-hurricane Ophelia Significant damage has been caused and it may be number of weeks before remedial work is carried out in your area.
Fallen and blocked by trees should only be cleared by Coillte trained experts.
Please accept our apologies for any inconvenience caused.
16.10.2017
WEATHER WARNING
All forests are closed to the public access today. No one should enter any forest area even if a barrier is open. We will be facilitating emergency access only.
28.09.2017
Temporary site closure of Corrin Woods car park, Co. Cork
Please note that Corrin Woods car park will be temporarily closed to facilitate a harvesting operation in 3 weeks time.  This operation is required to remove timber that has been affected by Dothistroma needle blight.  This disease can be fatal to trees and is a serious risk to national forest health.   Click here to access a map of the area to be harvested.  Machines will be moving close to and within the car park & recreation area.
Please adhere to signage and restrictions.  Thanking you in advance.
18.09.2017
Ivy Removal from façade of Curragh Chase house, Co. Limerick
From Monday 18th of September, 2017 the area in and around Curragh Chase house will be cordoned off to allow for ivy to be removed from the façade.  Works are estimated to take 2 weeks.  Please adhere to signage that is in place for your safety.  Thanking you for your co-operation.
11.09.2017
Road Upgrade - Glanteenassig, Co. Kerry
A general forest road upgrade is underway in Glanteenassig from from 11.09.2017 to 15.09.2017.  Access to the lakes is not affected.
Please adhere to signs and detours.  Thanking you for your co-operation.
31.08.2017
WARNING - Deer Hunting
The hunting season for many game species, particularly deer commences in many forest areas from September 1st 2017 to February 29th 2018.
For your safety, please stay on designated trails or forest roads during this period and obey all warning signs.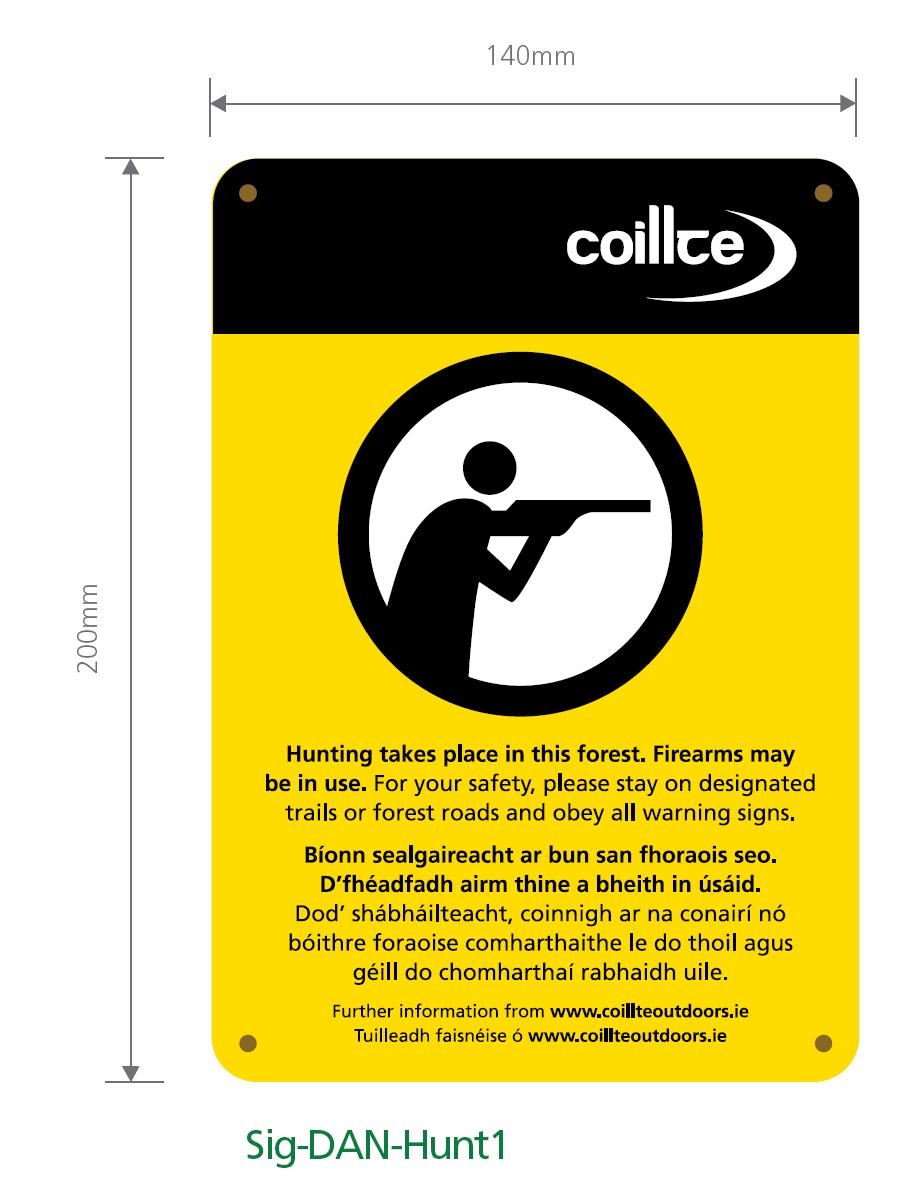 18.08.2017
Deer and Game Hunting Licences; Secondary tender Competition
Please note the Coillte's secondary tender competition for deer and game licences has now gone live.
Catalogues, tender forms and more information can be found at this link
Closing date for the receipt of tenders is 5pm Thursday 31st August 2017 
09.08.2017
Wicklow Way Trail Diversion
There will be a short diversion of the Wicklow Way in Lugduff, Glendalough from 14th August 2017 until 31st October 2017 Heading south from Glendalough the diversion starts at grid reference T 110 957 it follows forest roads for 1.25km and re-joins the Wicklow Way at Grid reference T108 952. The diversion is way-marked.
26.07.2017
Lymes Disease Awareness
Lymes disease is a condition spread by ticks. The HSE has provided advice in the link below to increase awareness of Lymes Disease and how to protect yourself when visiting the outdoors.
http://www.hse.ie/eng/services/news/media/pressrel/lymedisease.html
21.07.2017
Cong Forest Trail Closure Of Walkway For Remedial Works.
The OPW will be undertaking works to removing trees in Cong between the 24th to the 28th of July (inclusive).
This will require a closure of the walkway (over the pedestrian bridge) for the duration of the works.
Please respect all signage in the interest of Health & Safety as there will be machinery working in the area during operations.
We regret any inconvenience during the work.
14.03.2017
Coillte Recreation Trails Highlighted In The Irish Times
Coillte's recreation trails were highlighted this weekend in two articles in the Irish Times. The Ballyhouras are a 'hidden treasure' for mountain biking and walking, appearing third on the list here. Irish Times - 20 hidden treasures around Ireland
Following quickly after its success in the RDS Forestry awards, Portumna Forest Park is first on the list of 'best cycling routes' in Ireland, with Ballinastoe mountain bike trails in Wicklow, a close second!
14.03.2017
Public Notice – Trail Closure – Bonny Glen – Co. Donegal
Bonny Glen Recreation Site in Donegal is closed due to damage caused by storm because of the storm DORIS.
There is a lot off danger trees that have been blown down.
The site is closed for health and safety of everyone until further notice.
03.03.2017
Public Notice - Harvesting Operations – Kilmashogue – Co. Dublin
Harvesting operations will commence on March 3, 2017 until July 2017 at Kilmashogue Wood.
Please abide by warning and safety signage.
We thank you in advance for your co-operation.