17 July 2023
Coillte Nature
Regenerating Forests in the Dublin Mountains
Guest blog by Laura Harris, PhD student at Maynooth University
As part of the Dublin Mountains Makeover, some stands of Sitka spruce are being managed under Continuous Cover Forestry (CCF). This approach aims to retain the forest canopy and promote biodiversity. CCF typically relies on the natural regeneration of trees to restock the forest after selective felling. However, when natural regeneration is low or absent (often due to a lack of seed input), or there is a desire to introduce a more diverse mix of tree species, underplanting can be used.
Underplanting involves planting trees in small groups or "coupes" under openings in the forest canopy. Recently, an underplanting research project has started in Cruagh and Ballyedmonduff Woods. The research will determine the relationship between forest canopy openness and the survival, growth, and health of a mix of underplanted conifer and broadleaf tree species. This research forms part of ContinuFor, a collaborative research project funded by the Department of Agriculture, Food, and the Marine that aims to identify sustainable silvicultural approaches to transforming even-aged forest stands in Ireland to CCF.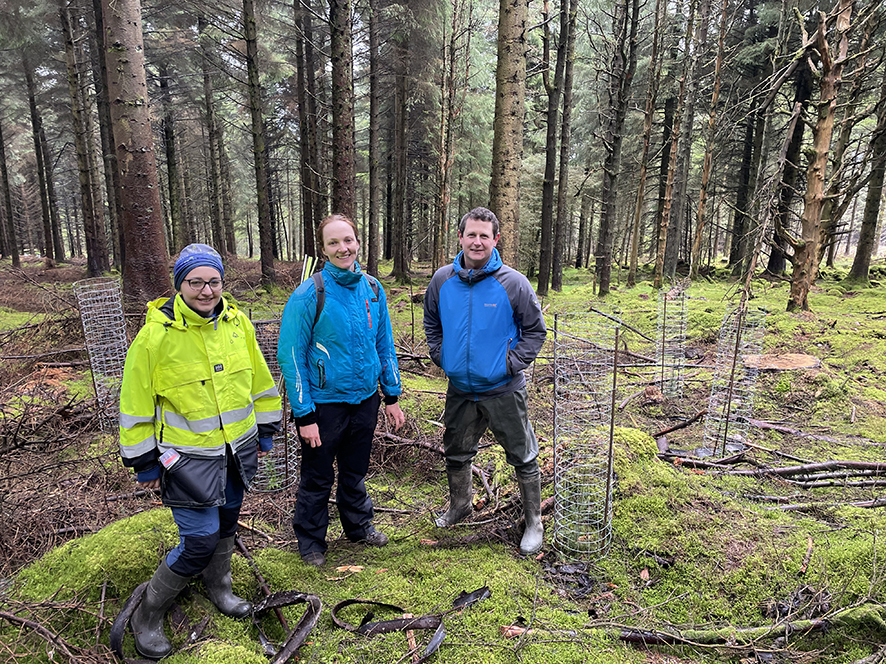 Prior to the underplanting, I carried out scoping studies at both sites to identify suitable gaps for underplanting. This involved taking photos of the forest canopy using a DSLR camera with a fisheye lens. I then analysed these photos using software to calculate canopy openness.
Suitable gaps for underplanting were selected with canopy openness ranging from 2% to 40%. On the 24th and 25th of April the underplanting work was carried out by a team of contractors at Cruagh and Ballyedmonduff. I assisted in coordinating the planting at both sites.
Pictured L-R: Stefania Purcaru, Coillte and Laura Harris and John Devaney, Maynooth University
At both Cruagh and Ballyedmonduff, groups of trees have been planted in gaps of varying sizes. Broadleaves include sessile oak (Quercus petraea) and beech (Fagus sylvatica) and groups of conifers are made up of Douglas fir (Pseudotsuga menziesii) and western red cedar (Thuja plicata). Due to high densities of deer in the area, the saplings have been protected from browsing damage with metal mesh tree guards, which may be seen when walking through the forests. These trees will be monitored to assess their survival, growth and health. The results from this research will further our understanding of how canopy gap size influences the survival and growth of a range of different tree species.
It was fantastic to see the addition of new tree species within the Sitka spruce stands, particularly the broadleaves; beech and oak. I look forward to seeing an increase in forest structural diversity in the years to come.
Laura Harris is a PhD student at Maynooth University, whose work forms part of ContinuFor, a collaborative research project that seeks to identify sustainable silvicultural approaches to transforming even-aged forest stands in Ireland to CCF. CCF is expected to increase structural diversity in forests and has the potential to enhance multiple forest-related ecosystem services such as carbon sequestration, biodiversity, and amenity value. With partners in Maynooth University, University College Dublin, and Teagasc, ContinuFor will investigate the impact of CCF transformation on forest multifunctionality.