Coillte Awarded Finance Dublin Public Bodies Loans & Finance Deal of the Year Award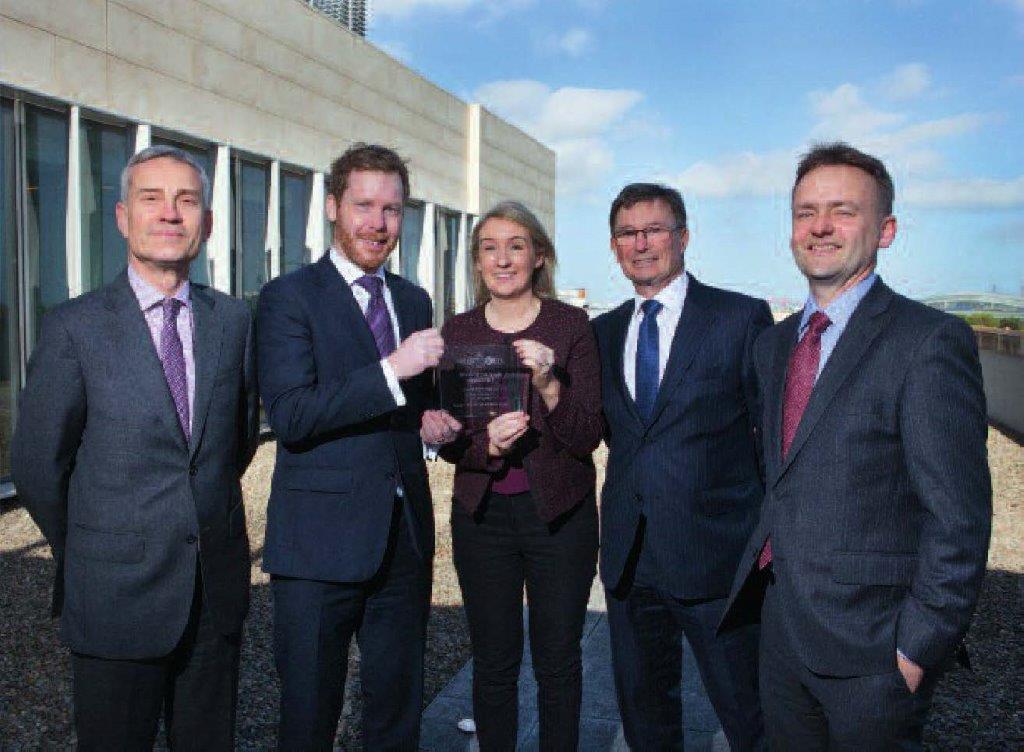 [L-R] Gerard Britchfield, Finance Director, Coillte; Barry Dempsey, Head of Treasury, Coillte; Regina Walsh, Associate Director, Bank of Ireland; Sean Barrett, Senior Director, Bank of Ireland; Gerry Gillespie, Senior Manager, Bank of Ireland.
Coillte's refinancing of its syndicated debt facilities secured Finance Dublin Public Bodies Loans & Finance Deal of the Year Award.
New syndicated debt facilities provides Coillte with 'fit for purpose' financing structure.
The new €170 million RCF with five lenders is fully aligned with Coillte's ambitious strategy for developing more sustainable, diverse cash flows.
In December 2016, Bank of Ireland led and successfully co-ordinated the refinancing of Coillte's syndicate debt facilities with the creation of new revolving credit facilities of €170 million provided by a syndicate of five lenders –  Bank of Ireland, AlB, Danske Bank, Robobank and Ulster Bank. Bank of Ireland acts as Agent and Security Trustee to the syndicate.
Fergal Leamy, Coillte CEO, said the refinancing of syndicated debt facilities had provided the company with a truly 'fit for purpose' structure that underpins its strategy for the next five years and is fully aligned with its future vision to be the best forestry and land solutions company in Europe by 2020.
Leamy said: 'As a company we have historically been reliant on, and exposed to, the construction sector. Now we are seeking to generate more sustainable, diverse cash flows and to grow operating cash in order to make a return to all stakeholders. Each of our three divisions (Forestry, Land Solutions and MEDITE SMARTPLY) are primed to deliver on the ambitious 2020 targets. Forestry is our core business and we plan to improve commercial returns to achieve a long-term cash yield that is the best in class.
'Complementing our forestry activities is our wood based panels business, MEDITE SMARTPLY, a leading supplier of MDF and OSB products. This business is renowned for establishing long-term relationships with its customers and is focussed on becoming a recognised leader in value-added products. Building from ownership of about 7 per cent of the country's land, our third division is Land Solutions, which is mandated to generate sustainable, recurring cash flows from our extensive land bank.
'The key to the delivery of this strategy is in partnering in every facet with people who understand our business. In Bank of Ireland, AlB, Danske Bank, Rabobank and Ulster Bank we believe that we have a group of lenders who continue to support the evolution of Coillte. Our business is long-term by its very nature and therefore the willingness of our lenders to get to know and appreciate our business, and to provide long term support, is something that we in Coillte place a huge amount of value on and are grateful for. We see our lenders, and this financing package, as being key enablers of the delivery of our strategy'.
Sean Barrett, Senior Director, Bank of Ireland, said: 'The successful execution of this transaction has provided Coillte long term debt funding at an improved maturity profile, enabling it to position itself for future growth and facilitate a significant capital investment programme as well as complementing its five-year stated strategy."
The advisors and banks to the deal were: Bank of Ireland Corporate Banking (Arranger, Facility Agent, Security Trustee); Ulster Bank; Danske; AlB; Rabobank; Arthur Cox (advisor to the lenders), McCann Fitzgerald (advisor to the borrower).
About Coillte
Coillte is a commercial forestry company, owned by the State, that manages approximately 7% of the country's land. Coillte operate three strong businesses from this land – their core Forestry Business, a Wood Panels manufacturing business MEDITE SMARTPLY and a Land Solutions business. Coillte export to over 30 countries worldwide and in the financial year 31 December 2016  generated revenue of €287.7 million and EBITDA of €98.3 million. Coillte's vision is to be the best Forestry and Land Solutions company in Europe. To find out more visit www.coillte.ie