13 November 2020
latest news
Coillte and Leitrim County Council Launch Glenfarne Wood Options Report
Friday, 13 November 2020
Guests of Leitrim County Council and Coillte gathered online last night to formally launch the Glenfarne Wood Options Report. The report provides a suite of development options that could be undertaken to enhance Coillte's Glenfarne Wood for local and regional recreation and attracting tourism visitors.
These options have been developed after research, widespread consultation and benchmarking against similar sites here and in Northern Ireland and England.
To download the Report – CLICK HERE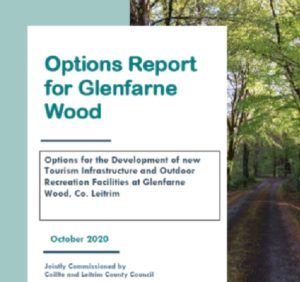 Delivered by EMcG Solutions and Ethna Murphy Consulting, the publication marks the culmination of over seven months' consideration and input from community, voluntary, business and statutory organisations.
It is also a concrete demonstration of the developing working relationship of Coillte and Leitrim County Council.
Paul Jordan, Area Team Leader with Coillte, outlined the context of the report, commissioned as a result of a Working Group comprised of Coillte and Leitrim County Council officials. Its underlying rationale was to research and gather stakeholder input on development proposals that would suit Glenfarne Wood and enhance its assets as a recreational and tourism destination. Work commenced just as public health restrictions came into effect. With agility and some adaptation, it was decided to proceed with consultations undertaken, online, by post and telephone. Any reservations about the efficiency of this were quickly dispensed as study participants provided rich and considered input to the study.
Co-launching the report Coillte's Managing Director, Mark Carlin thanked the guests for their feedback and interest in Glenfarne Wood: "It is testament to the great esteem in which Glenfarne Wood is held that you took time to think about its special qualities and what it means to you on a daily basis. On behalf of both organisations, we thank you."
Leitrim's Cathaoirleach, Councillor Mary Bohan welcomed the report: "A development of this nature has the potential to transform the tourism offering in North Leitrim and provide a sustainable and significant boost to this region, through increasing visitor numbers and job creation in the leisure & hospitability sectors."