Coillte and Fáilte Ireland commence €16m redevelopment of Avondale Forest Park as iconic new visitor destination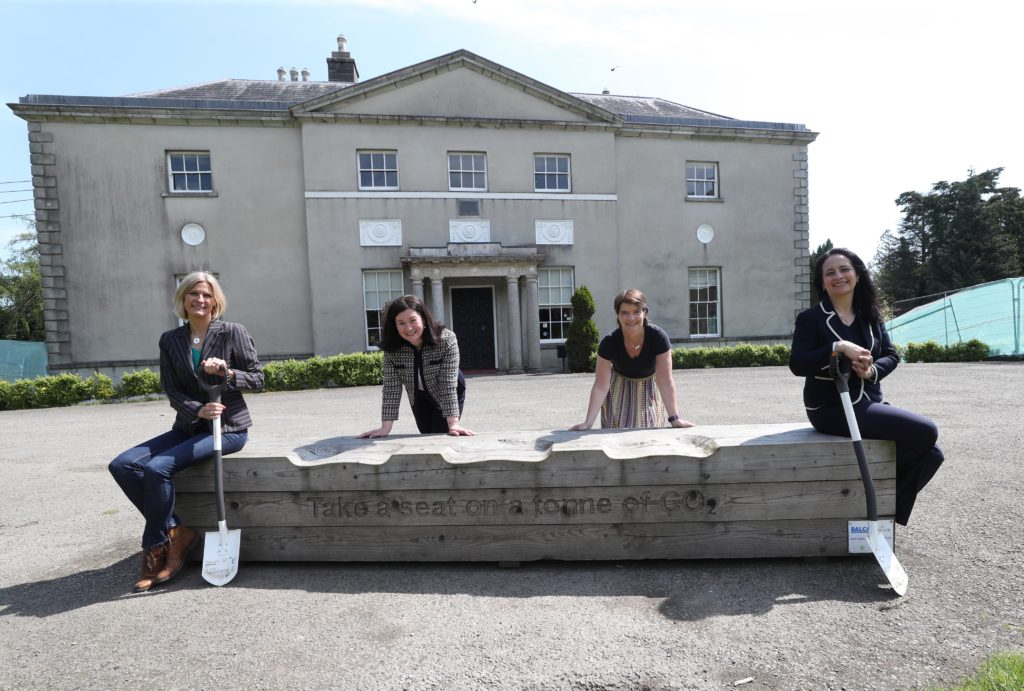 31st May 2021: Coillte and Fáilte Ireland break ground on a €16m redevelopment of Avondale House and Forest Park
The announcement was made by Minister for Tourism, Culture, Arts, Gaeltacht, Sport and Media Catherine Martin TD and Minister of State for Land Use and Biodiversity, Pippa Hackett TD at Coillte's Avondale House and Forest Park, Rathdrum, County Wicklow. This €16 million project, a partnership between Coillte, Fáilte Ireland and EAK (erlebnis akademie AG) will transform Avondale into a unique family attraction and a key new destination in Ireland's Ancient East. The newly redeveloped Coillte Avondale House and Forest Park is expected to open to the public in Spring 2022.
Coillte Avondale House and Forest Park main attractions include:
A new 38 metre (c12 storey high) wooden* viewing tower offering visitors a spectacular 360-degree views of Coillte's Avondale Forest Park and the surrounding countryside. It includes an innovative slide that will delight adults and children alike.
A unique 1.2km Tree Top walkway with breath-taking views of Avondale's diverse forest.
(Both of the above structures will showcase the use of high quality Irish wood for large scale construction projects).
The park will contain a Visitor Orientation Hub with a new café** and renovated courtyard buildings.
The walled garden will be re-juvenated for garden lovers to enjoy.
"It is a momentous day as works start on this wonderful project. The historic Avondale House and Forest Park is already a much-loved visitor destination and this redevelopment will make it an even stronger attraction in Ireland's Ancient East," said Minister Catherine Martin TD.
Visitors will be able to explore interactively:
'At Home with the Parnell's' celebrating the life and times of Charles Stewart Parnell, and his two sisters Anna and Fanny Parnell, co-founders of the Ladies Land League in 1881.
'The Evolution of Forestry' will look through the history of the forest park from the 1700s to the present day and beyond. Visitors will learn about the growing importance of wood as consumer preferences rapidly turn towards selecting renewable and sustainable construction materials.
"I'm truly delighted to celebrate the launch of this exciting new project." said Pippa Hackett, Minister of State for Land Use and Biodiversity at the Department of Agriculture, Food and the Marine. "Avondale House and Forest Park is known as the birthplace of Irish forestry, and the ambitious forest biodiversity plans will make Avondale a fitting destination to celebrate the great past, and even more exciting future for Irish trees and forests."
Coillte is also progressing a forest management plan to rejuvenate the original forest plots, now over 100 years old and enhance the overall biodiversity of the forest park.
"Fáilte Ireland is pleased to partner with Coillte on the exciting redevelopment works at Avondale House and Forest Park. The project will create a new and vibrant destination for families and overseas visitors when it opens next year which will benefit the local economy and local employment," said CEO of Fáilte Ireland Paul Kelly stated:
While parts of the park will be restricted to visitors during construction works, the forest park will remain open.
ENDS.//
Media queries:
For further information or to arrange an interview with a Coillte representative please contact: Caoimhseach Connolly cconnolly@carrcommunications.ie / 089 6138857
Fáilte Ireland: Trudi McDonald, Fáilte Ireland, 086 0673964, Trudi.mcdonald@failteireland.ie
Notes:
* The 1.2km tree top walkway and 38m viewing tower will both be constructed from high quality Irish wood. Locally grown Irish Douglas fir trees are being used to build these structures.
**The visitor hub, café, tree top walkway and viewing tower will be wheelchair accessible.
Avondale Forest Park is the home of Irish forestry and Coillte's plan is to enhance the biodiversity whilst maintaining the heritage of the site with the beautiful range of trees, rich wildlife and vegetation and for future generations to enjoy.
For example: Avondale Forest Park plans to maintain a broad range of tree species from around the world. This has the dual purpose of helping to conserve these species, while also giving people a chance to see and appreciate them.