2 September 2021
Coillte Nature
Wild Western Peatlands: Surveying and Consulation underway
The Coillte Nature team has been busy with the detailed surveying, consultation and planning for the Wild Western Peatlands project. This is an ambitious initiative funded by Coillte and the Department of Forestry, Agriculture and the Marine, which will focus on areas of blanket bog and wet heath across the western seaboard which are currently under commercial forestry. These peatlands were drained and planted with pine and spruce in the past in an effort to create rural employment and a timber resource. Today we have a far better understanding of how these lands can be managed to enhance biodiversity and store carbon, and new forests are not planted on deep peat in this way.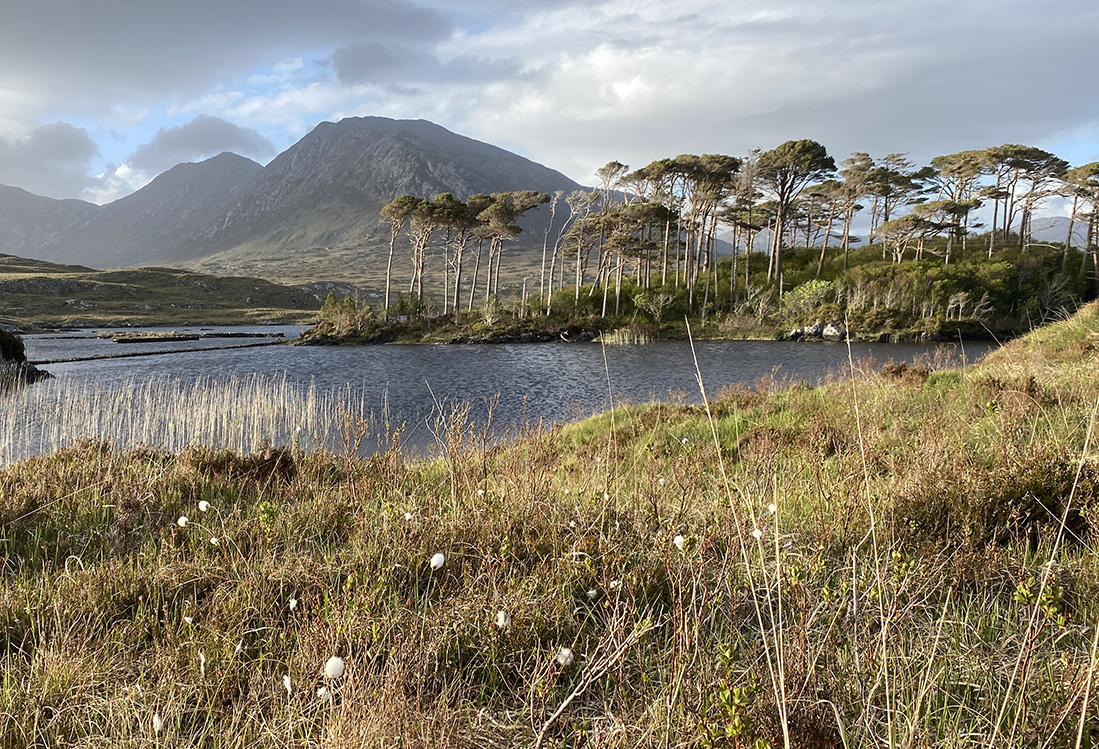 The Wild Western Peatlands project intends to rehabilitate 2,100 hectares of land, the majority of which is currently planted with lodgepole pine and spruce forest. A pilot site has been chosen at Derryclare, Co. Galway, with the view to selecting up to five more large sites along the western seaboard. Learnings from this project will help us to develop a range of processes and solutions that can be used to manage such areas more sustainably into the future.

The pilot site at Derryclare, Co. Galway
Over the summer, ecology, hydrology and Lidar surveying has started on our pilot site at Derryclare, Co. Galway. This Coillte owned property is surrounded by the Twelve Bens/Garraun Complex Special Area of Conservation, on the shores of the iconic Lough Inagh and Derryclare Lough in Connemara. These connected lakes have high-status water quality and are a top salmon and trout angling destination. The site also borders the Derryclare Nature Reserve which is one of the finest examples of semi-natural oak woodland in Ireland.
Today the majority of the site is planted with pine and spruce forest, 80% of which is Yield Class 12 or less, which is considered below the threshold for commercial forest production. About half of the forest has reached maturity, while the other half has been felled and replanted largely with spruce and pine over the last 20 years.  However, there is increasing evidence that continuing with this clearfell rotation system on blanket bogs has a negative environmental and climate impact.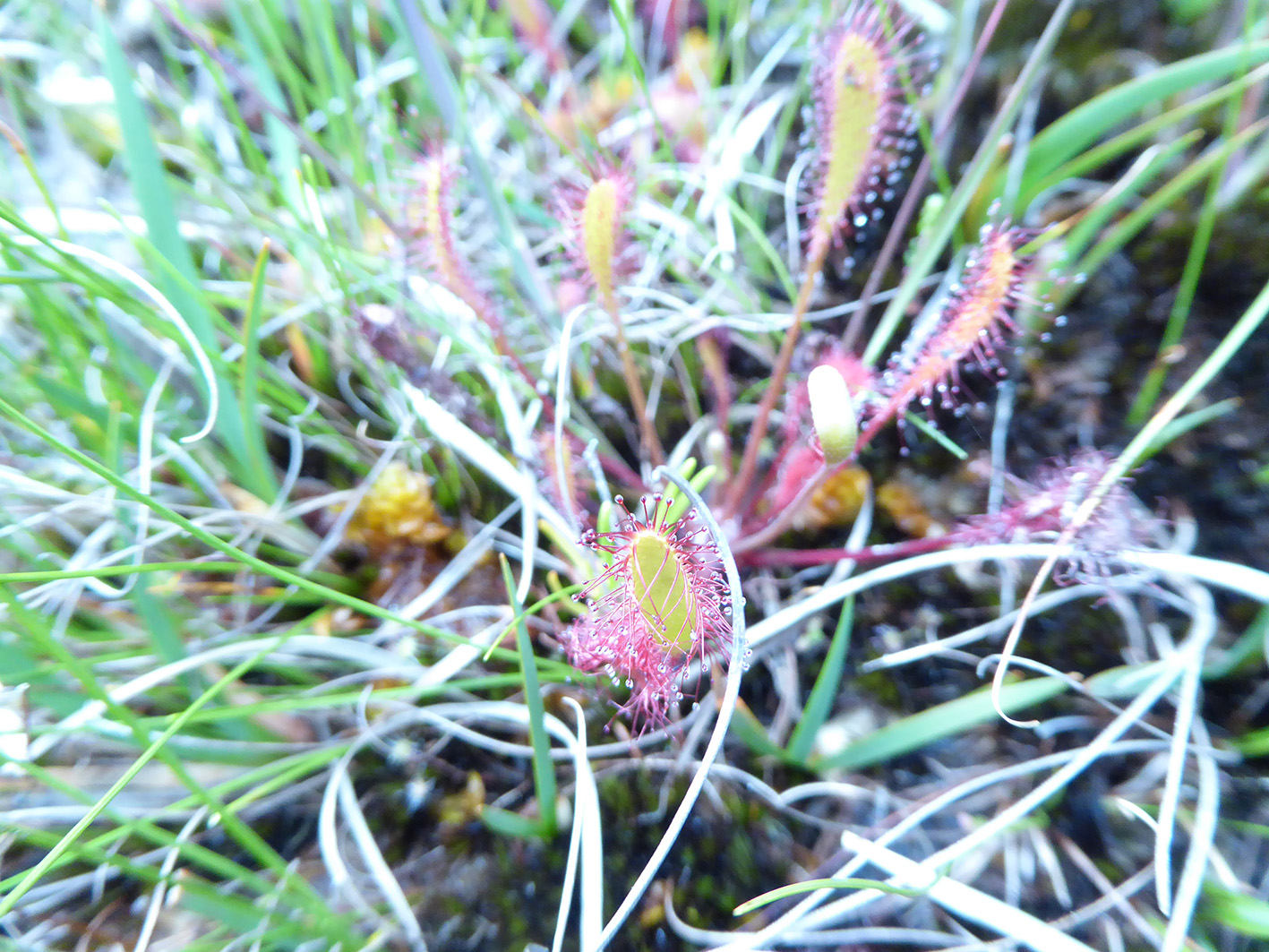 The good news is that the surveys which have been taking place over the summer show that there is high potential for restoration of blanket bog and wet heath on this site, which is our preferred redesign option. Large areas of the site have peat depths greater than one meter, with peat forming Sphagnum moss still present as well as other bog species such as sundew, bog cotton and bog asphodel. On parts of the site where blanket bog and wet heath restoration do not appear to be possible, the planting areas of low-density native and mixed woodland will be explored. In addition, buffer zones of open spaces or low-density native woodland will be developed along water courses to protect water quality.
Engaging with stakeholders
The Coillte Nature team is in the process of developing a long-term management plan for the entire Derryclare property with input from a wide range of stakeholders. At the end of June we held our first stakeholder engagement for this project online, with representation from a wide range of NGOs, networks and government agencies. The reaction to the project was overwhelmingly positive and there were many valuable comments and suggestions regarding the planning, design and management of the project – thanks to everyone who attended. As the project continues there will be further online and on-site activities for those interested to get involved with the planning, design and implementation of the project. You can download a copy of our initial Stakeholder Information Document for more details about the project.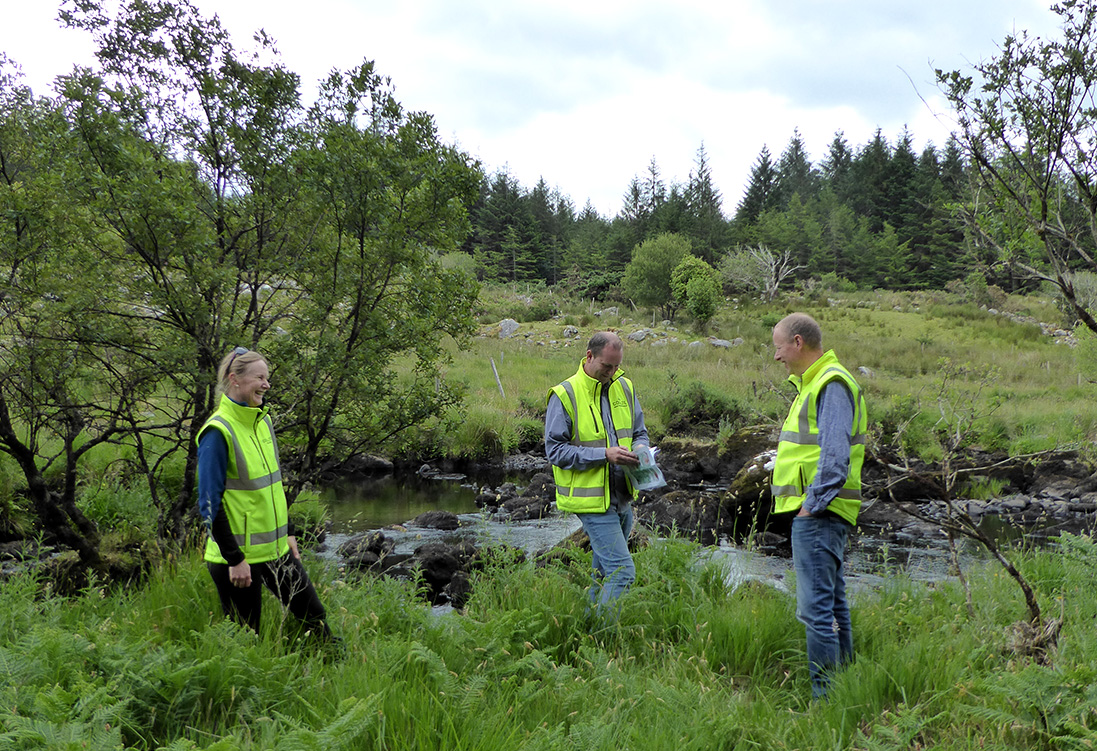 Visit to Kerry LIFE project
As well as engaging with a wide range of stakeholders, learning from other projects both in Ireland and abroad is key to the success of this project. The Coillte Nature team recently visited several Kerry LIFE sites to learn from the successes of this initiative and the challenges it has faced. We were delighted to get a close-up look at the freshwater pearl mussels thriving upstream in the Blackwater and learn about measures taken to preserve them.
If you would like further information about the Wild Western Peatlands project, or have local knowledge or technical  information that you think would be of value to the project, please contact Coillte Nature's Outreach Manager Hedda on hedda.dick@coillte.ie