Minister of State Andrew Doyle T.D officially opens Coillte recreation trail in Glenmalure Valley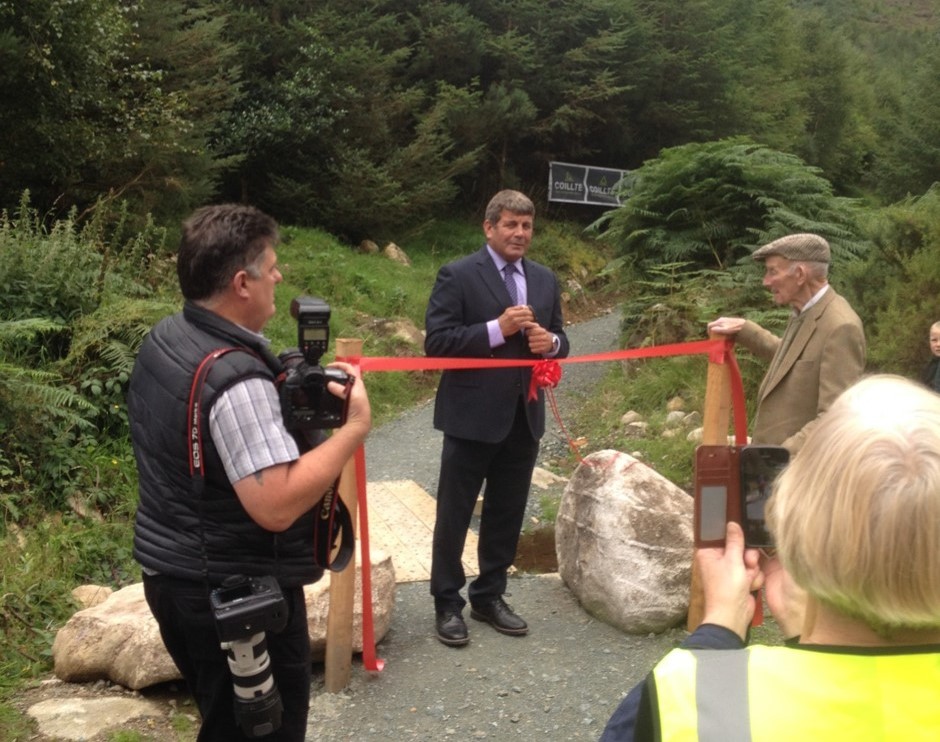 ---
Members of the local community gathered in Baravore, County Wicklow on Thursday 24th of August for the official opening of a new Coillte recreation trail by Minister of State for Food, Forestry and Horticulture Andrew Doyle T.D. The short looped trail which was developed and built by Coillte and funded by the Department of Rural and Community Development will bring walkers to heart of the scenic Gleanmalure Valley and its historic mining heritage which is the longest glacial valley in either Ireland or Britain.
The event was arranged by the local Glenmalure PURE Mile group who also launched their 2017 Pure Mile brochure. The group focuses on eradicating littering and dumping and making the most of the heritage and historical landmarks as well as the noticeable flora and fauna in the area.
On opening the trail, Wicklow native Minister Doyle led the group up to the recently restored Baravore Crusher house building. In 2016 Coillte partnered with Wicklow County Council to secure funds through the Department of Arts, Heritage, Regional, Rural and Gaeltacht Affairs Built Heritage Investment Scheme (BHIS) to conserve the historic and unique Crusher building at Baravore.  Built between the years 1859 and 1860, the Crusher building is recognised as the finest existing example of its type in the country.
The Minister welcomed the cooperation between Coillte, Government Departments, the County Council and the local community to develop the trail and open the area for visitors and acknowledged the valuable works carried out to protect the structure
At the Crusher house the community heard presentations from Roisin Burke of Abarta Heritage from the Adopt a Monument scheme, Deirdre Burns Heritage Officer with Wicklow County Council and local Glenmalure historian Carmel O'Toole. Restoration works were carried out by Kevin Carrigan who gave a presentation on the traditional use of lime mortar and Kevin has a very interesting blog on the project at www.kevincarriganrestoration.ie
Pat Neville of Coillte said " This is fantastic amenity in one of the most breathtaking parts of the country. This short looped trail, which is suitable for walkers of all abilities ,will bring users through an ancient glacial valley right into the heart of the historic mining district.  The restored crusher building is a fascinating piece of Irish heritage.  We are delighted Minister Doyle was able to officially open the trail and we hope it will become a resource to the community and wider public."
About Coillte
Coillte is a commercial forestry company, owned by the State, that manages approximately 7% of the country's land. Coillte operate three strong business from this land – their core forestry business, a wood panels manufacturing business MEDITE SMARTPLY and a land solutions business. Coillte manage assets with a value of €1.5 billion and in the financial year 31 December 2016 it generated EBITDA of €98.3 million. Coillte's vision is to be the best forestry and land solutions company in Europe. To find out more visit www.coillte.ie