Minister for Forestry Launches Coillte's National Fire Training Day 2019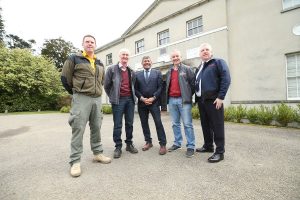 Coillte hosts national fire training day for foresters and wider agriculture sector to learn fire safety, control and prevention
Minister Doyle urges farmers and land owners to practice responsible fire burning restrictions this summer 
The National Fire Services urges the public to remain vigilant, avoid camp fires and always report sightings to local fire services
Thursday, 21 March: Andrew Doyle, TD, Minister of State at the Department of Food, Forestry and Horticulture launched Coillte's National Fire Training Day for 2019 at Avondale House in County Wicklow today.
The Minister urged farmers, forest owners, forest managers and the public of the need to be alert to the risk of wildfires over the coming summer months, and called for anyone enjoying the outdoor recreation to behave responsibly and within the law.
The fire training day helps to inform and up-skill Coillte foresters and the wider industry on fire safety and prevention. A series of presentations also took place, covering practical advice on firefighting, climate change, health and safety, including different firefighting systems.
Speaking at the launch, Minister Doyle stated; "I want to continue to urge farmers, forest owners, forest managers that there is a risk of fires during spring months on certain types of land, particularly in upland areas and that high fire risk conditions can be expected over the coming spring and summer months, when weather conditions dictate."
Recalling the major wildfires in recent years that destroyed or damaged property, including farmland and forests, he added; "Such fires directly endanger people's homes and property and destroy valuable habitats and tourism resources. Furthermore, they place enormous strain on the emergency services and put the lives of rural dwellers and emergency service personnel at considerable risk".
Minister Doyle noted that following dry weather patterns, a wildfire risk can quickly develop in all areas where flammable vegetation such as grasses, gorse and heather are present, and concluded by saying; "The message is essentially the same each year – I ask land owners, rural dwellers and other land users to maintain a high degree of vigilance regarding fire over the coming months, with special regard to lighting fires."
Michael Power, National Estates Risk Manager for Coillte, said; "Last year, we saw over 90 separate fire events on Coillte property alone, which severely effected more than 400 hectares of forest of forestry and 500 hectares of bog. The largest and most dangerous of these incidents was in the Slieve Blooms, counties Laois and Offaly."
He also reminded land owners that under the Wildlife Act, it is illegal to burn growing vegetation on uncultivated land between 1st March and 31st August and that persons engaged in such illegal activity are liable to prosecution and could face fines, imprisonment and penalties to their farm payments.
The cost of fighting these fires as well as the loss of standing timber was significant and Coillte are still engaged in an ongoing process to evaluate the expenditure required to ensure forest and habitat regeneration.
Many rural and remote communities are also hugely impacted by wildfires, which can cause significant environmental and economic damage.
Aidan Dempsey, Chief Fire Officer for Wicklow County Council said; "Suspicious activity should be reported to the Gardaí and uncontrolled or unattended fires should be reported immediately to the Fire and Emergency Services."
Coillte and the Forest Service are also hoping to educate the public on how to be more fire aware this summer, and to understand the importance of reporting any forest fire sightings to their local fire brigade.
At the launch of Coillte's National Training Day 2019, the National Fire Service and Coillte undertook an impressive fire safety demonstration, with the Wicklow Fire Services working alongside Air Corp and Executive Helicopters to extinguish a fire from the skies.
Coillte's recommend seven steps to prevent fires this summer:
Do not light fires in or near woodland.
Have a fire plan. Ensure you have a current fire plan for your forest.
Work with neighbours. Co-operation is vital to achieve successful pre- prevention.
Be vigilant.Forest owners should be particularly vigilant following dry weather.
Check fire breaks and access routes.
Insure your crop.
Report losses.If a plantation is destroyed or damaged by fire, the incident should be reported to the nearest Garda Station and to the Forest Service.