Minister for Agriculture Launches Coillte National Fire Training Days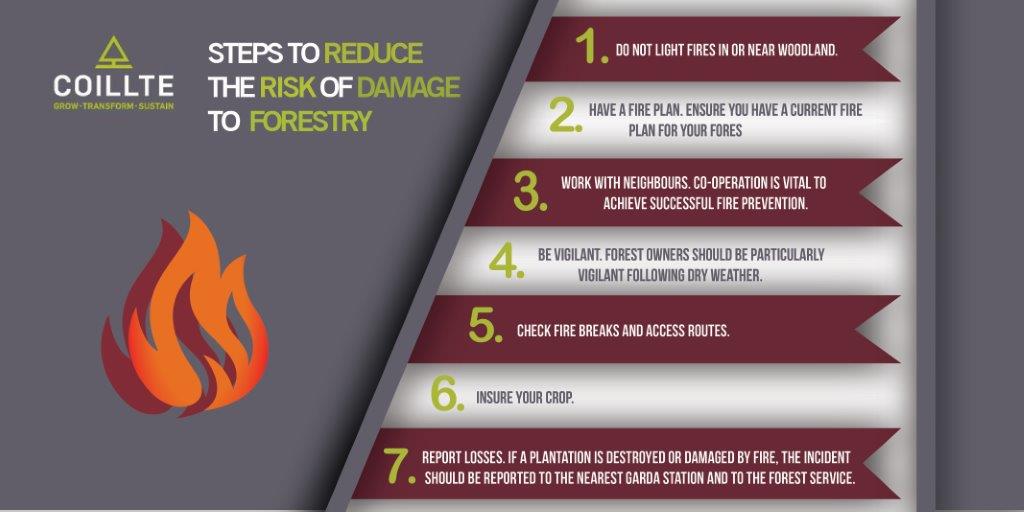 A series of National Fire Training Days are due to take place around the country over the coming weeks as part of a campaign led by Coillte in association with The Forest Service and with the support of the Minister for Agriculture, Michael Creed T.D., who officially launched the campaign in Millstreet County Cork.
In an effort to reduce fire incidents, the public are being urged to be vigilant and report forest fires as soon as possible. While land owners are being reminded that burning vegetation on land not yet cultivated between 1st March and 31st August each year is an offence.
Mick Power, Coillte National Estates Risk Manager said, "At the start of spring there is often a lot of dead vegetation accumulated from last year. This material can dry out quickly when there are bright sunny days, high temperatures and low humidity levels, which can greatly increase the risk of fire."
"However, with the National Fire Training Days campaign, we are working with land managers and are appealing to the public to firstly be vigilant and then most importantly to report forest fires in a bid to protect the countryside, its wildlife and residents."
2017 was an exceptional year for forest fires in Ireland with 85 separate fire events on Coillte property alone, which affected more than 1,700 hectares of forestry and 2,000 hectares of bog. The largest and most dangerous of these incidents was the forest fire at Cloosh Valley, County Galway.
The cost of fighting these fires as well as the loss of standing timber was significant and Coillte are still engaged in an ongoing process to evaluate the expenditure required to ensure forest and habitat regeneration.
"This process is very challenging as significant work is required to remove burnt material and prepare the lands for reforestation. Most areas will be fully replanted while others may be converted to biodiversity and nature conservation areas with the agreement of the Forest Service," said Mick Power.
Many rural and remote communities are also hugely impacted by wildfires, which can cause significant environmental and economic damage.
Speaking at the launch of the National Fire Training Days campaign, Minister for Agriculture, Michael Creed T.D. said, "Livestock, farmland, wildlife, protected woodland and sites of special scientific interest can all be devastated by these fires, as can the lives of people living and working in rural communities. However, human behaviour can significantly lower the chance of a wildfire starting so it's essential people act safely and responsibly."
The campaign is also promoting awareness of the seven steps that people can follow to reduce the risk of damage to our forestry:
DO NOT LIGHT FIRES IN OR NEAR WOODLAND.
HAVE A FIRE PLAN. Ensure you have a current fire plan for your forest.
WORK WITH NEIGHBOURS. Co-operation is vital to achieve successful fre prevention.
BE VIGILANT. Forest owners should be particularly vigilant following dry weather.
CHECK FIRE BREAKS AND ACCESS ROUTES.
INSURE YOUR CROP.
REPORT LOSSES. If a plantation is destroyed or damaged by fire, the incident should be reported to the nearest Garda Station and to the Forest Service.
Further National Fire Training Days events are planned for Avondale, Co. Wicklow on the 21st March, and Sligo Airport March 23rd and finally in Woodford County Galway, April 10th.