MEDITE SMARTPLY Wins Sustainability Award at EcoBuild 2017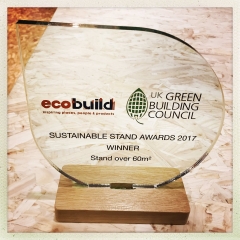 MEDITE SMARTPLY, producers of innovative timber panel products, have been awarded the most sustainable stand over 60m2 at Ecobuild 2017.
The award is given to the exhibitor who has designed and built a stand that can be reused, recycled and of benefit to the environment beyond the tradeshow.
Ecobuild and the UK-GBC  presented the award to Stuart Devoil, Head of Marketing and Brand at MEDITE SMARTPLY, who comments, "This award reflects our ongoing mission to educate and inform the industry on just how truly sustainable timber in construction can be. 
"The stand was a collaboration between ourselves, Holdsworth Design and Goldfinger factory. Goldfinger Factory, our social enterprise partner, designed the coffee lounge aspect and will ensure all of the board will be used for new projects and teaching its beneficiaries new skills."
Martin Hurn, Brand Director of Ecobuild, explained the importance of the award, "MEDITE SMARTPLY have captured the spirit of Ecobuild with a stand that is truly as sustainable as the products it provides. Many stands end up in landfill, or as waste, so it's refreshing to see a large manufacturer that has paid such close attention to detail in order to better protect our environment."