Galway Wind Park – Ireland's largest wind farm enters commercial operation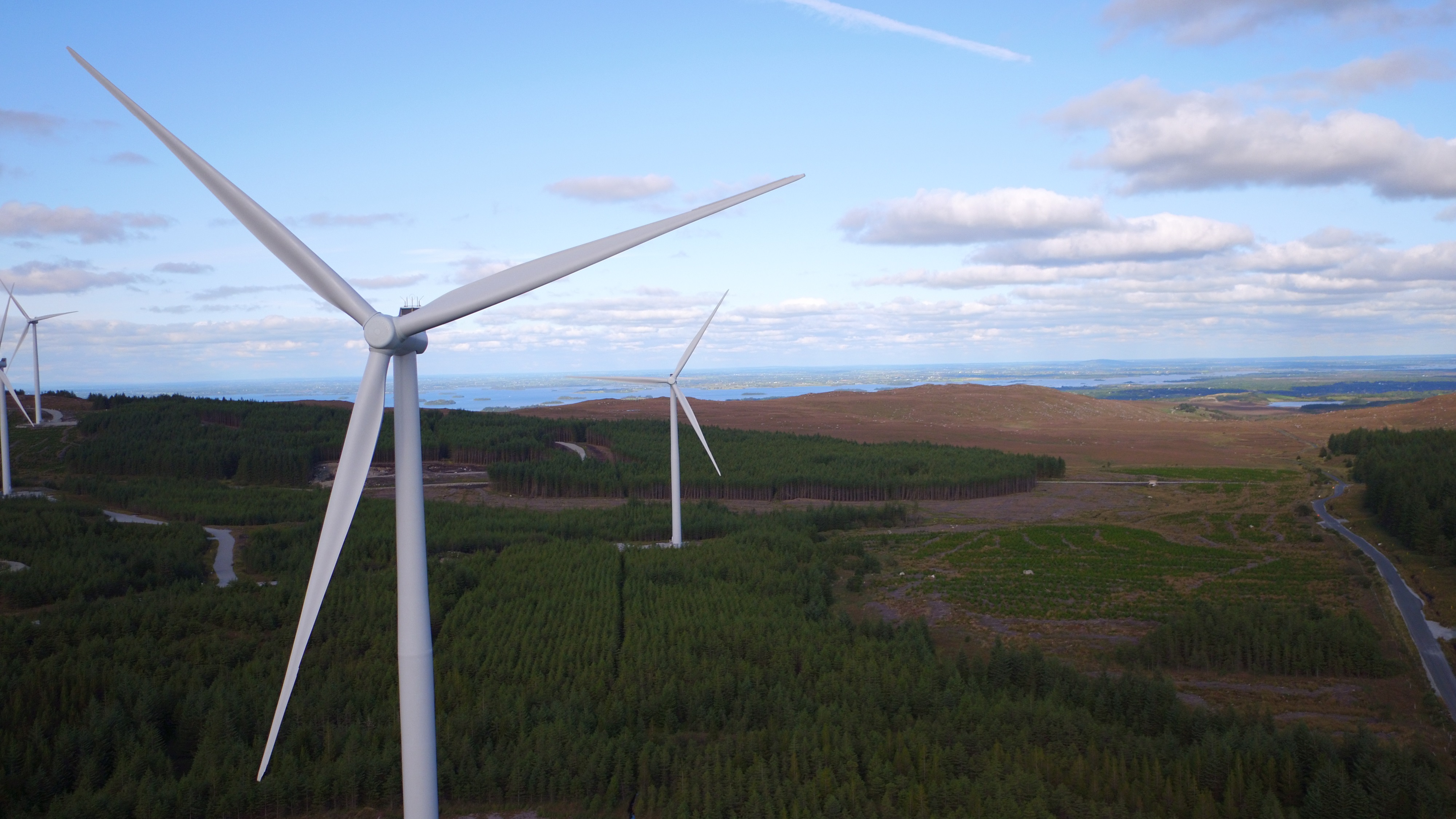 SSE and Coillte's 169MW Galway Wind Park can power every home in Galway and
will offset over 220,000 tonnes of CO2 emissions.
 The 169MW Galway Wind Park, co-developed by SSE and Coillte in Connemara's Cloosh Valley, has entered commercial operation and is now Ireland's largest and best performing wind farm, generating more green energy than any other wind generation site on the island.
Galway Wind Park has been developed by SSE and Coillte at a joint investment cost of over €280m, with €90m contributed to Irish Gross Domestic Product1 during construction, and €20m spent with local suppliers and contractors. The power generated at Galway Wind Park will be now provided to SSE's retail arm SSE Airtricity, Ireland's largest green energy provider.
Located south-west of Oughterard, Galway Wind Park comprises 58 Siemens 3MW wind turbines, each rated to the highest international standard and specifically engineered for the prevailing wind conditions at the Connemara site to optimise generation output performance.
As a result, SSE and Coillte forecast that Galway Wind Park will produce over 600GWh of green energy each year – enough renewable energy to power over 140,000 Irish homes. This means Galway Wind Park can power more than the equivalent of every home in Galway city and county2. In a typical year, the green energy produced at Galway Wind Park will offset over 220,000 tonnes of harmful CO2 emissions3.
Galway Wind Park will boast a multi-million euro community fund aimed at recognising the support, cooperation and needs of local people. The fund, currently being designed by SSE and Coillte in consultation with local communities, will be launched in the coming months and will operate for the lifetime of the wind farm.
The development of Galway Wind Park brings SSE's operational portfolio of onshore wind farms in Ireland to 28 with a combined generation capacity of 768MW, making SSE the largest generator and provider of renewable energy in the all-island Single Electricity Market. Galway Wind Park is one of four wind farms that Coillte, along with its partners, has invested €400m in over the last 18 months and brings Coillte's operational wind portfolio to over 200MW.
Stephen Wheeler, Managing Director, SSE Ireland, said:
"The development of Galway Wind Park demonstrates how two industry leaders can join forces to deliver the country's largest onshore wind farm. As Ireland's largest single generator and provider of renewable energy, we're extremely proud at SSE that Galway Wind Park will make the biggest single contribution of any renewable energy site towards greening our national energy supply and decarbonising power generation across the island. We're equally proud that over its lifetime Galway Wind Park will help transform the local and regional economy and communities through a multi-million euro community fund."
Fergal Leamy, Chief Executive, Coillte, said:
"Galway Wind Park is one of four major renewable energy projects we have completed over the last 18 months involving over €400 million of investment. This landmark project is a great example of two companies partnering to maximise the value of their assets and expertise. We are proud that Galway Wind Park supports the economic development of local communities, including the provision of a multi-million benefit fund. As the largest wind farm in Ireland it supports our commitment to mitigation of climate change and Coillte's stated ambition to develop over 1GW of renewable energy to power a million houses annually."
Editor's notes:
Galway Wind Park was constructed in two phases over almost three years, with main works commencing in December 2014. Construction was led by main civil works contractor, Roadbridge, alongside Suir Engineering, GMC Utilities Group and Kirby Group. The project was named Green Project of the Year at the 2017 Irish Construction Industry Awards last May. This was the project's second Irish Construction Industry Award in as many years, having scooped the prize for Excellence in Sustainability in 2016.
Phase 1 of Galway Wind Park (64MW) is owned and was fully financed by SSE at an investment cost of around €105m. Phase 2 (105MW) is a 50/50 joint venture between SSE and Coillte which was funded by project finance totalling €176m. This project finance, agreed in January 2016 between SSE and Coillte with three Mandated Lead Arranger (MLA) banks – BBVA, Coöperatieve Rabobank U.A., and NORD/LB – is the largest-ever financing arrangement for a single wind energy asset in Ireland.