21 September 2021
Dublin Mountains Makeover
Dublin Mountains Makeover: R&R and CCF works continue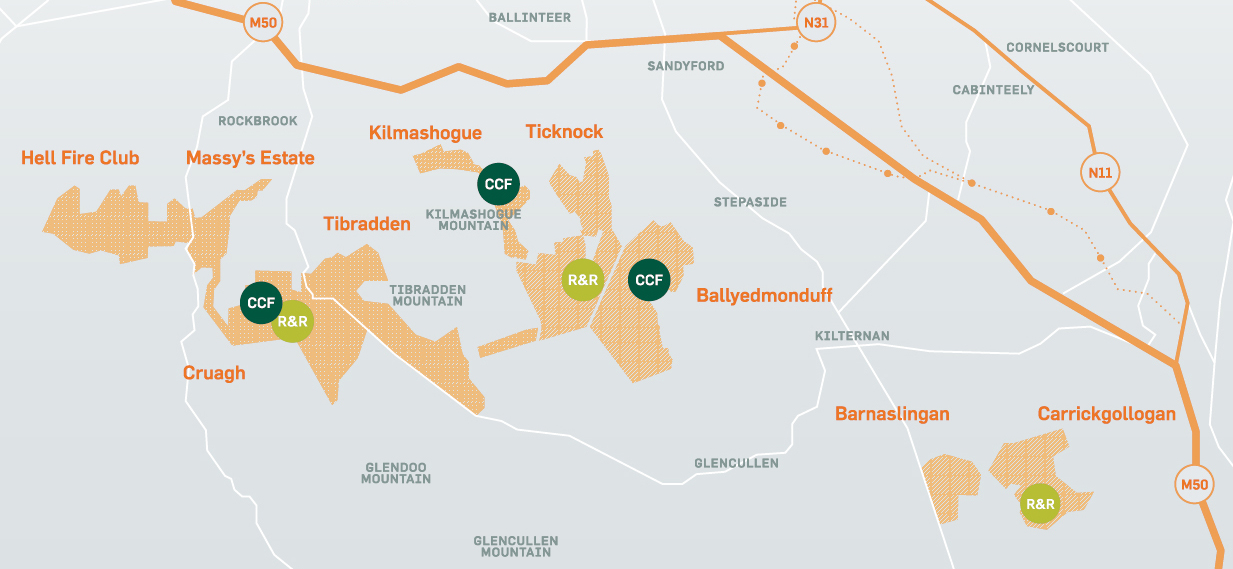 There is lots of activity taking place over the coming months as the Dublin Mountains Makeover continues, with harvesting and haulage taking place as part of our R&R (Remove and Replant) and CCF (Continuous Cover Forestry) management.
Timber haulage will be ongoing weekdays from Kilmashogue, Tiknock, Ballyedmonduff and Cruagh.
CCF Harvesting at Ballyedmonduff
Harvesting will start this week in Ballyedmonduff with a further 7 hectares of CCF thinning, removing selected trees. This will start the transformation process to CCF, beginning to open the forest canopy and create gaps for future regeneration of spruce and other species.
CCF Harvesting at Cruagh
CCF thinning at Cruagh wood will commence in mid-October.  As you walk from the car park to newly planted R&R native woodland, you will notice trees marked with a pink dash – these are the trees to be removed during this thinning operation.  This will create the conditions for a mix of tree species to regenerate, allowing the forest to become more diverse in terms of age, tree size and species over time.
R&R Harvesting at Carrickgollogan
R&R harvesting will commence in Carrickgollogan in early to mid-October. Back in 2018, large areas of this forest were burned and many of these trees are now blown over.  These trees will be removed and the area will be replanted with new native woodland. Please watch out for timber lorries within the forest and on the narrow local access roads.
Find out how some of our other R&R sites in the Dublin Mountains are progressing in our new video below.