Coillte/HSE/Western Forestry Co-op/Sligo County Council and Minister Pippa Hackett Turns Sod on Cloonamahon Native Woodland Park
21st February 2021.  Pippa Hackett Minister of State for Biodiversity and Land Use at the Department of Agriculture, Food and the Marine officially "Turned the Sod" and planted the first tree to mark the development of the 105 acre Native Woodland Park, Sligo.  This site is being 100% funded by the Department of Agriculture Food and the Marine under its Woodland Creation on Public Land scheme. The scheme was introduced by Minister Hackett in 2020 to encourage public bodies to use their lands for the creation of public lands.   The HSE Cloonamahon complex is located approximately 10km from Sligo town and is easily accessible from the main Sligo to Dublin road (N4). It is a circa 200 acre site owned by the HSE, bordering approximately 15 acres of forest owned by Coillte and 23 acres of land owned by Western Forestry Co-operative. Coillte are converting this existing conifer plantation to Native Woodland. Western Forestry Co-op are establishing a native woodland model forest on their land. The HSE site is being established and managed by Western Forestry Co-op.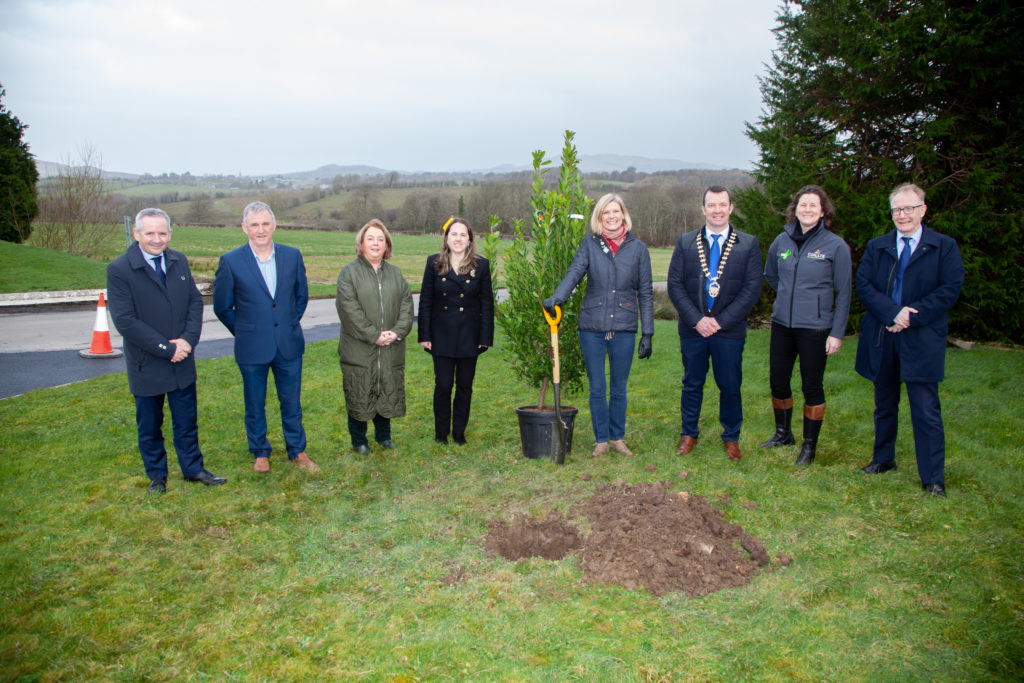 The site currently operates as a service for people with disabilities. National policy – Transforming Lives and Time To Move On from Congregated Settings – supports people with disabilities to live in the community. HSE Community Healthcare Organisation Area 1 Disability Services have been progressing community living for residents in congregated settings over the past number of years. The Cregg campus in Sligo closed completely for residential services in late 2021 with 112 residents having moved to new community group homes. There are now 22 residents who remain living on the Cloonamahon campus and 15 of these residents are due to move to new community group homes in 2022 with the remainder moving in 2023. As a result there has been use made of what was previously residential accommodation in the main Cloonamahon building to provide accommodation for a range of HSE management and support services.
The purpose of the Woodland Creation on Public Lands Scheme is to encourage Public Bodies to establish new native woodlands on suitable land. This aim is consistent with the Programme for Government, which sought to "Embark on an ambitious programme of afforestation on state-owned lands".
Speaking at the event Minister Hackett stated "I am delighted to officiate at today's ceremony to mark the first significant step in a collaborative effort by the HSE, Coillte, Western Forestry Co-operative and Sligo County Council to create a native woodland, all funded by my Department. Native woodlands are an important part of Ireland's natural, historical and cultural heritage, and are unique in terms of their biodiversity.   This is why I introduced a scheme to encourage public bodies to use their lands for creation of native woodlands and today's site is an excellent example of how this scheme is working. I congratulate also Coillte and Western Forestry Co-operative for bringing adjoining lands into this project and am delighted that my Department is also funding this through the Native Woodland Conservation Scheme and Afforestation Grant Scheme."
According to CEO of Western Forestry Co-operative Marina Conway "As well as the new native woodland, approximately 55 acres of old native woodland will be enhanced through the Departments Native Woodland Conservation and NeighbourWood Schemes as a public amenity, which will incorporate accessible walking tracks, signage, seating and picnic areas, providing an inclusive space in nature for both locals and visitors to the Sligo area". 
Acting Chief Officer, HSE CHO 1 (Cavan, Donegal, Leitrim, Monaghan and Sligo) Dermot Monaghan stated "The HSE is delighted to be part of this project which will see 105 acres of HSE owned land converted to native woodland under the scheme.    The Cloonamahon site will provide an inclusive recreational and health space to support all citizens' and visitors' physical, mental, spiritual and emotional well-being.  The HSE in partnership with other statutory and community organisations envisages the development of facilities and infrastructure to create a universally accessible place for all people where everyone is valued regardless of age or ability."
CEO, HSE, Paul Reid stated "The extensive landscape at Cloonamahon is biodiverse and CHO 1 will further enhance this landscape through partnership with the local community, our existing partners and other potential partners to restore and develop spaces to engage with nature and horticultural opportunities. To this end I am delighted to announce today that €300,000 will be available from the Health Services Executive's 2022 Capital Programme to start the journey of creating further opportunities to engage with nature and horticultural activities. This capital budget is being made available as a one off contribution from the income of sale of lands to the National Roads Authority for the N4 realignment.  It will support the capital costs associated with the upgrade of the old farmyard and orchard to create a sensory garden and horticulture area, for use initially by disability and mental health day services".
Director of Stewardship & Risk, Coillte, Deborah Meghen stated "It will provide an opportunity for biodiversity to thrive and be protected.  Cloonamahon and the native woodland development offers an opportunity for people to draw closer to nature which can provide solutions to modern and urban living stresses as well as support climate pressures for current and future generations."
Cathaoirleach of Sligo County Council Paul Taylor stated "Today's event marks the first step on the journey of development envisaged for Cloonamahon.  With further investment, the Cloonamahon complex can be developed to create further opportunities for all citizens to spend time in nature through the creation of spaces to engage in therapeutic, horticultural, respite and recreational activities".
Ends
About Coillte
Coillte is a commercial forestry company, owned by the State, that manages approximately 7% of the country's land. Coillte's mission is to create a sustainable future from its forests and land and deliver the multiple benefits of its forests for climate, nature, wood and people.
To find out more visit www.coillte.ie