Coillte and Local Community Celebrate Successful Conservation of Historic Building in Glenmalure Valley.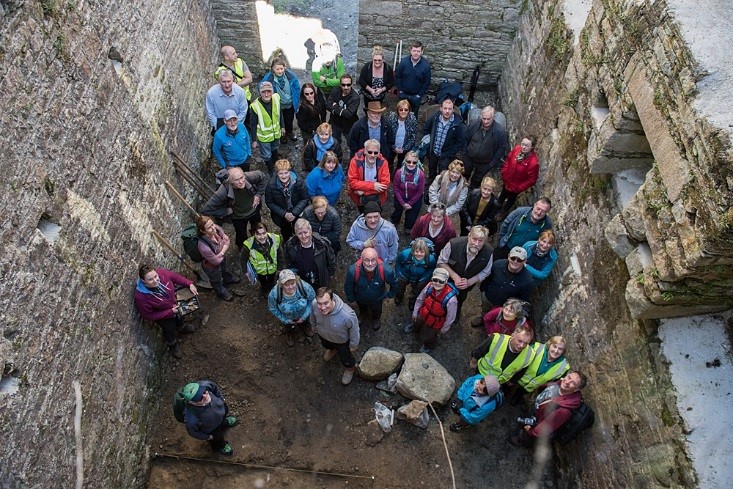 Coillte and Local Community Celebrate Successful Conservation of Historic Building in Glenmalure.
Coillte and the local community in Glenmalure County Wicklow came together for an open day on March 25th 2017 to celebrate the successful conservation of an historic mining building in the Glenmalure Valley. 
The event celebrated the conservation works and fascinating history of a large 19th century ore-crushing building which stands as a reminder of the hard-working miners and pioneers who built their livelihoods around the rich natural resources hidden in the Glenmalure valleys. Built between the years 1859 and 1860, the building is recognised as the finest existing example of its type in the country.
In 2016 Coillte partnered with Wicklow County Council to secure funds through the Department of Arts, Heritage, Regional, Rural and Gaeltacht Affairs Built Heritage Investment Scheme (BHIS) to conserve an historic crusher building at Baravore in Glenmalure. Conservation works began and were completed during 2016. 
At the same time, the crusher building was entered into the Adopt a Monument Scheme by the local Glenmalure PURE Mile group and selected as a winner. The scheme encourages local communities to become actively involved in the conservation and interpretation of local monuments and sites in need of care and attention.  The Glenmalure PURE Mile Group was one of six communities finally selected from over 90 applications for the scheme in 2016.  The group was selected due to their enthusiasm and interest in their local heritage and the support they receive from Wicklow County Council and the landowners; Coillte.
The open day was opened by Pat Neville of Coillte and featured presentations from the stone masons who had conserved the structure, Kevin Carrigan Brick and Stone Restoration, outlining the conservation methods of lime rendering used and from Roisin Burke of Abarta Heritage who demonstrated an exciting archaeological excavation of the building floor. Deirdre Burns Heritage Officer with Wicklow County Council also welcomed the group to Glenmalure. 
Pictures Courtesy of Joe Haughton