Coillte Agrees Sale of 74 acre Killykeen Site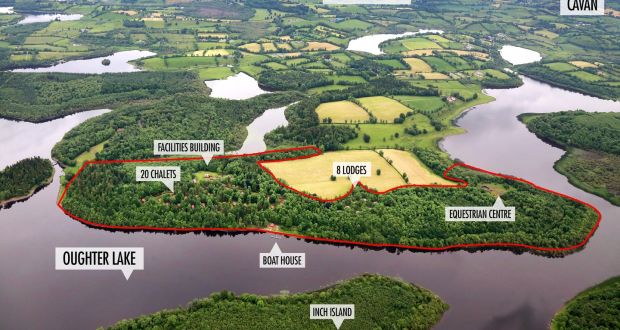 COILLTE AGREES SALE OF 74 ACRE KILLYKEEN SITE FOR DEVELOPMENT OF BESPOKE HOLIDAY VILLAGE
 CABÜ TO MAKE MULTI-MILLION EURO INVESTMENT IN KILLYKEEN SITE
Coillte, Ireland's commercial forestry and land solutions company, has announced the sale of a 74-acre site in Killykeen, Co. Cavan to CABÜ the UK based modular building business company, for the development of a unique holiday destination.
The multi-million-euro investment will offer visitors the opportunity to stay in CABÜ architect designed cabins whilst allowing access to an outdoor retreat on the 74-acre site.The holiday village site currently includes a mix of 28 existing Scandi-style holiday homes which CABÜ will be upgrading, equestrian centre, boathouse with 10 boat berths plus four ancillary facilities buildings and on site amenities located 10 kilometres from Cavan town. CABÜ has created a portfolio of unique Cabin Hideaways across the UK and plan to reinstate the lapsed planning consent for additional holiday accommodation to accompany a new spa, amenity buildings, and chill out spaces on the Killykeen holiday village site.
Mark Foley, Managing Director of Coillte Land Solutions, said "Coillte Land Solutions is delighted that the sale of land at Killykeen will facilitate the development of this bespoke holiday experience and ultimately strengthen Cavan's tourism offering. The Coillte Land Solutions team is committed to maximising the value of the Coillte estate and identifying opportunities and partnerships that can generate long term benefits that are in line with national policy. It is always exciting to see foreign direct investment in tourism in this region and I wish CABÜ all the best in their development."
CABÜ is owned by JP Ledwidge and Olivia Hutchinson of Cowley Timber & Partners, the modular building business company. Ms. Hutchison said "The site at Killykeen is absolutely breath taking and we were able to recognise the potential there instantly. Our cabins are designed to blend into the surrounding environment and the combination of waterways and forestry at Killykeen will allow us to offer an entirely different tourism holiday experience. I do want to thank Coillte's Land Solutions team for helping us find the right fit for our project and we are really looking forward to bringing it to life. We hope to open for visitors by April 2018 with a view to developing the site further over a period of three years. Ireland has so much to offer in this space and we would certainly be looking to the future and possibly expansion right across the island."
Killykeen is expected to open to visitors in Easter 2018 with works phased over a three-year period.
For more information about CABÜ go to https://cabu.co.uk/